Photo Gallery
First Friday Art Walk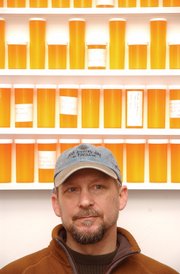 Past Event
Friday, January 4, 2008, 5 p.m. to 8 p.m.
,
Not available / Free
First Friday Art Walk
1. Steamboat Springs Arts Council at The Depot - 13th Street, 879-9008
2. Steamboat Arts & Crafts Gym - 1280 13th St., 870-0384
3. Spill the Beans Espresso Bar - 1051 13th St., 846-5593
4. Artists' Gallery of Steamboat - 1009 Lincoln Ave., 879-4744
5. Creekside Cafe and Grill - 131 11th St., 879-4925
6. Portfolio Collection, Ltd. - 1016 Oak St., 879-3718
7. Gallery 11 - 908 Lincoln Ave., 870-8887
8. Marabou Gallery - 56 Ninth St., 879-0044
9. K. Saari Gallery - 837 Lincoln Ave., 870-0188
10. Steamboat Art Museum - 807 Lincoln Ave., 870-1755
11. East West Frame Shop - In the alley between Oak Street and Eighth Street, 879-5225
12. Images of Nature - 730 Lincoln Ave., 871-1822
13. Steaming Bean - 635 Lincoln Ave., 879-3393
14. Sleeping Giant Gallery - 624 Lincoln Ave., 879-7143
15. Blue Sky Pottery - 1475 Pine Grove Center, 846-9349
16. Wildhorse Gallery - In the Sheraton Resort Hotel, 879-7660
Steamboat Springs — As part of the second First Friday Art Walk, a number of galleries and art spaces will exhibit new works. Here is what the artists had to say about pieces at K. Saari Gallery and the Artists' Gallery of Steamboat.
Vile medicine
Before his sister died of medical complications in 2002, local artist Joel Allen had never given much thought to pharmaceutical companies, the health care industry, or how either of them affected his daily life.
That has changed.
Now, in an art installation titled "Pharma-Illogical: Can You Swallow This?" Allen is making his displeasure with medicine in the United States a matter for public inspection. Opening today at the K. Saari Gallery as part of Steamboat's second First Friday Art Walk, Allen's multi-piece exhibit started with a rocking chair.
"The rocking chair for me is like a metaphor for a whole life's journey. There aren't very many generations that have spent their entire lives as a chemical culture," Allen said about the chair, which is covered in pharmaceutical ads and surrounded by drug company freebie pens and candy.
"We tend to think of medication-like treats," he said, pointing to a vile filled with shiny foil-wrapper sweets, prescribed to his sister's name.
Allen has shown the installation twice before in Montana and said it has been well received. Although his stance on the issue is clear - a series of canvasses that spell out "greed" make his stance on for-profit health care obvious - Allen said he looks forward to hearing varying opinions on the issue.
"People have so many personal stories about relatives or themselves having to deal with the health care institution," Allen said.
"I think even people in the health care industry are sympathetic to the problem, but it's not really in their control to change the system - the system is huge," he said. "Even if you don't agree with it, that's great. If you're a doctor and you think it's too much, that's great, I want to hear that."
Artists' Encore
Sandra Sherrod doesn't take photographs to paint from. Instead, she made the oil paintings in her exhibit at the Artists' Gallery of Steamboat from quick pencil sketches made at local ranches.
"That gives me freedom to challenge myself, and I can paint my horses any way I want," Sherrod said.
After 12 years working as an artist in Houston, Sherrod said she's interested in groupings and relationships in paintings.
"Whether it's urban scenes or ranch scenes, the objects interrelate," she said.
Also opening today are a collection of weavings featuring Southwestern colors by Jacque Hart, and a series of "Lonely" black and white photographs by Kim Keith.