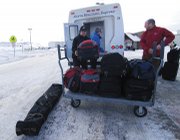 Flight information
Check on flights, through your airline, on the Web at: www.flightview.co...
By phone, call Delta at 1-800-241-4141, United at 1-800-864-8331, Continental at 1-800-784-4444, American at 1-800-433-7300, and Northwest at 1-800-225-2525.
Steamboat Springs — Operations at Yampa Valley Regional Airport returned to normal Monday, restoring holiday travel after Sunday's snowfall and wind gusts led to canceled and diverted flights that left many passengers stranded.
"We had a couple flights that ended up getting canceled just because pilots couldn't see the runway to get in here," Airport Manager Dave Ruppel said of Sunday's weather. "It was snowing sideways for three hours, you couldn't even see the runway for most of that time."
In all, three flights were canceled, but by Monday morning, Ruppel said it was business as usual at the airport.
"Most of the time, we are able to keep up with the weather," he said. "We talked about closing yesterday because of weather, and had it continued to blow the way it did for those few hours, we probably would have."
Ruppel said the airport has averaged one closing per year over the past few years, but snow-clearing machinery added to the airport late last winter may have helped avoid a closure Sunday.
"In general, we have good snow crews and good equipment," he said. "Everybody is used to handling bad weather and dealing with it. Snow crews have been out there working every single day for the last 24 days without a break : that gives you an idea of how much snow we have actually had lately."
Due to federal regulations, airport crews must plow runways when a quarter-inch of snowfall accumulates.
"So even just a light snowfall requires them to be out there plowing," Ruppel said. "That can kind of slow things down sometimes."
Routt County Commissioner Doug Monger said Monday that recent renovations to the airport helped keep passengers at ease during the storm.
"At one point of time we had four plane loads of passengers," he said. "To keep them happy, without having fist fights, is a very positive thing because of the terminal expansion."
Ruppel attributed Sunday's congenial atmosphere to improved visitor service.
"Load wise, we are pretty flat with what we had at this year at this time, but the big difference is that we have the full use of the new part of the building," Ruppel said.
YVRA is in the midst of a three-phase improvement project. The first phase included a 4,300-square-foot terminal expansion that created additional room for passenger check-in and baggage screening.
"All of the investments we have made in the facility over there in the last few years, yesterday was a good test for all those things," he said. "You really notice a kind of a sense of calm, you didn't see people get upset, they had food to eat and gift shops were open."
Ruppel added that new facilities and equipment don't mean as much as the extra efforts airport employees undertook Sunday to accommodate stranded passengers.
"It was a team effort, everyone pitched in," he said.
Continental Airlines employee Annette Hill invited a woman and her three children home with her when their flight to Houston was canceled.
"I was more than happy to help out, but I was a little worried because my house wasn't necessarily tidied up for visitors," she said.