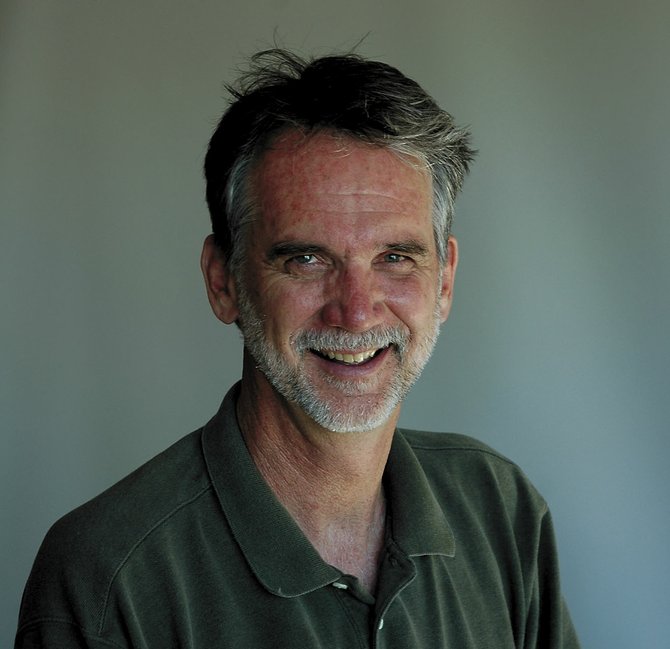 Tom Ross: One dog night
Travelers stranded by Silverthorne blizzard forced to improvise
Tom Ross
Tom Ross' column appears Tuesdays and Saturdays in Steamboat Today. Contact him at 970-871-4205 or tross@SteamboatToday.com.
Find more columns by Tom here.
Steamboat Springs — Sunday evening was every bit a three-dog night, and I had only one warm dog. Fortunately, I had two sleeping bags and one very warm wife in the back of my SUV.
I didn't have to think too hard over which one of them to spoon.
For a period of several hours in Silverthorne, the car (and the girl) offered my best option for taking refuge from the storm.
When a gusty snowstorm slammed into the I-70 corridor Sunday night, thousands of travelers were stranded, first by poor visibility on the highways and later by the avalanche danger posed by all of the wind-loaded avalanche chutes looming above the interstate highway. We were among the many pilgrims involved in a mass exodus from Denver.
The storm produced some interesting anecdotes. I watched a large Colorado Department of Transportation pickup with a "Road Warrior-style" bumper pushing a low-slung eastbound sedan up the hill to the tunnel at about 25 miles per hour. The car, better suited for lower elevations, was stalling traffic. Short of pushing it over the embankment, there was only one thing left to do.
We stopped in at a Wendy's restaurant that was steamy from the heat of many bodies and wet parkas. A family of seven from China was dining on the American fast-food version of Oriental cuisine: a Mandarin chicken salad.
I wondered to myself, "Does the salad taste like home?"
Maybe not.
Another man, whose native tongue I could only guess at, stopped me in the restaurant and asked, "You from here?"
"Not exactly sir."
"You know hotel?"
"My friend, if I knew of an available room, I'd be in bed watching SportsCenter."
He gave me a puzzled look. I clapped him on the shoulder and wondered how I would fare if I were stranded in a snowstorm in Uzbekistan.
Shortly after rolling into Silverthorne, we learned that the Eisenhower Tunnel had just closed behind us, and Rabbit Ears Pass was closed ahead of us. That was just fine, because I wasn't about to head up Colorado Highway 9 to Kremmling in the worst whiteout I've ever seen.
We stopped at several chain hotels before 8 p.m. and learned we were 45 minutes too late to score a room.
We could have stayed as guests of the American Red Cross with 900 other folks at the Silverthorne Recreation Center.
Just my luck - I didn't bring my bathing suit with me. Last one in the pool is an abominable snowman!
Not to denigrate the wonderful work the Red Cross did Sunday night in Silverthorne. They helped many families with children weather the storm.
But I can get a little freaky in large crowds of disoriented people.
That's not for me. Not when the car is stocked with sleeping bags, two backpacker's headlamps, plenty of reading material, two liters of water, a box of Triscuits and a Mega Pack of Jack Link's Premium Cuts Original Beef Jerky.
Our larder was full and we were darn near comfortable.
Even with the second row of seats folded flat, the rear of my vehicle is shorter than my 6-foot 2-inch frame. I found that by lying diagonally, there was room for me to stretch out and spoon Judy. Buck the Wonder Dog rolled over and tucked his spine up against my butt and in no time, two of the three of us were snoring peacefully.
Sometime after midnight, I stepped out of the vehicle to, uh, contemplate the meaning of life, and I noticed that conditions had improved.
I could just make out the familiar sign of the Old Navy outlet (I promise, I've never set foot in that store) and we resolved to boogie out of Silverthorne.
A call to the CDOT hotline, (303) 639-1111, revealed that Rabbit Ears had indeed reopened.
We set out like Admiral Peary on his way to the North Pole.
Just below Muddy Pass, in blinding snow once again, I stopped to investigate a car in the ditch. It was aimed in the wrong direction and still had running lights burning. I didn't want to stop but my conscience dictated I must. Thankfully, the car was empty, but if you are the owner, you owe me one.
Minutes later, we were feeling our way up Rabbit Ears, one highway reflector at a time, when Judy let out a gasp.
She thought she had spied a man staggering out of the blowing snow on the side of U.S. Highway 40. Instead, it was a snow specter, whipped into human form by the swirling winds.
You never know what you might see at 2:30 a.m. on a wicked night in the Colorado Rockies.