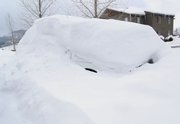 Steamboat Springs — The December 2007 snow that people in Steamboat Springs have battled and reveled in has earned a top-four ranking based on 99 years of records.
Last month's snowfall totaled 74.2 inches, according to longtime weather observer Art Judson. That number has been surpassed just three times according to records that go back to 1908, he added.
Judson's measurements were taken at a weather station perched above U.S. Highway 40 between downtown Steamboat Springs and Mount Werner, and do not reflect snowfall totals at Steamboat Ski Area. Older records were taken at different locations in the city.
Kent Kirkpatrick of Steamboat Ski & Resort Corp. reported 9 inches of new snow at the ski area on Monday morning, with another inch falling after 9 a.m. as the skies began to clear. Those 10 inches gave the ski area its third-highest December snowfall: 126 inches.
Snow fell at the ski resort on 26 of December's 31 days.
Ski area spokeswoman Heidi Thomsen cited ski area records that show 165.5 inches of snow fell at mid-mountain in December 1983 and 133.5 inches fell in December 1990. The average December snowfall at mid-mountain is 66.8 inches.
Some residents might recall December 1983 as the year of 40 days and 40 nights of nearly continuous snow. That weather event began in November 1983.
Mid-mountain snow in December has surpassed 100 inches three other times since 1979. The most recent was 2005, when 105 inches fell.
Judson said in terms of December snowfall in the city, the months that surpassed 2007 included December 1922, with 79.3 inches of snow; 1951, with 84.6 inches; and 1983, with 92.6 inches.