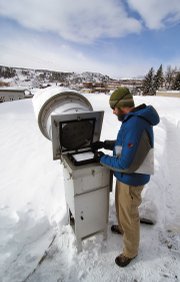 Steamboat Springs — Even in rural communities like Steamboat Springs, clean mountain air can be easily dirtied with the output of modern life, Routt County Environmental Health Director Mike Zopf said.
On Monday, Routt County Commissioners granted Zopf's request for a $27,000 particulate monitoring device to help comply with national air quality standards, which the county has not always met.
"The one (air quality standard) mountain communities have problems with is particulate matter," Zopf said. "In the late 1980s and early 1990s : we were having trouble complying. We actually violated the federal standards for particulate matter, and the source of particulates in our area are street sanding, fireplaces, wood stoves, restaurant grills and tailpipe emissions."
Zopf said the problem became so great that a blue haze settled over the region, especially in high-density areas like the Steamboat Ski Area.
"And so, the city, county and community came together with a plan : that plan has worked and visibility has improved and public health has improved," he said.
Part of the plan was to restrict the number of wood-burning stoves and employ city street sweepers to clean sand used on roadways throughout the winter.
To monitor the particulate matter in the air, the county installed a monitoring device on the roof of the Routt County Courthouse. That machine now is more than 20 years old, and Zopf told commissioners it is in dire need of replacing.
"The new monitor will track air quality in real-time," he said. "The reason we are going to real-time is because the filters (currently) have to be sent to Denver : We don't get the data for three or four months. By that time, it's not really useful information."
The new monitoring device will download data directly to the Steamboat Springs Public Works Department and the Routt County Department of Environmental Health.
"We are going to know what the air conditions are immediately," Zopf said.
Routt County Commissioner Doug Monger said receiving real-time data is essential in meeting national air quality standards.
"With this machine, we can try focusing on those problems and finding ways to solve those issues by being able to pinpoint what they are," Monger said.
Zopf stressed that the air quality in the county is vastly improved from 10 years ago, but monitoring particulates in the air remains important in continuing to improve public health.
"We know through the analysis of filters that the air since that time has improved dramatically," he said. "This is despite more traffic in town. It's a tremendous accomplishment for the community, but you can't get the air clean enough."