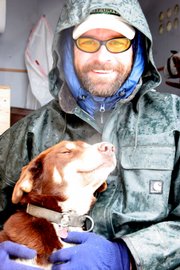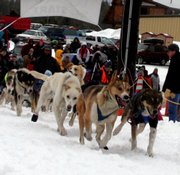 Thank you
Sled dog racer Tom Thurston thanks the following local businesses that have provided him with varying degrees of sponsorship and support: Rocky Mountain Plumbing and Heating, P.E.B. LLC, Northwestern Supplies, Kitchen Perfection, Steamboat Veterinary Hospital, Grizzle-T Dog & Sled Works, Wood Source and a few private donors.
Steamboat Springs — Two winters ago, Tom Thurston set out to simply finish the 350-mile Race to the Sky, or maybe finish in the top 10.
He finished seventh that year and raised the bar, then returned to the challenging Montana race near Helena last year and finished third.
After that achievement, Thurston had his sights set so firmly on victory this year that he did not let rain, snow and weather "twice as worse as anything I'd ever seen" get in his way.
"I visualized winning and visualized rough situations," said Thurston, who lives outside Oak Creek. "I was mentally prepared to win or even not win as long I did the best I could."
Thurston's team of 12 dogs fed off his calm demeanor and helped him gain the lead after the first checkpoint, about 85 miles into the race, by pulling ahead of grizzled professional musher John Barron.
The trouble with the lead was that Thurston's team had to continuously break trail as the snow continued dumping down. Fortunately, Thurston had some leaders.
"They just got faster," Thurston said. "I have eight lead dogs and I used seven, with different leaders each time and they didn't get tired or frustrated. I left each checkpoint on the brake with fresh dogs."
Thurston extended his lead and at 6:35 a.m. Tuesday, two hours ahead of the next team - 20 teams competed - he won the race with 31 hours and 25 minutes of total trail time.
On top of that, he finished with all 12 of his dogs.
"To my knowledge - and I've been with the race for 23 years - he's the first musher to win the race and finish the race with 12 dogs," race organizer Pam Beckstrom said.
The care Thurston takes of his team was apparent to the other racers, who honored him with the 'Best Cared for Team' award. The dual awards only further signify a breakthrough year - one in which he also won January's Seeley Lake 200 and that race's sportsmanship award - for Thurston's arrival to the elite end of his sport.
"He marches to the beat of his own drummer and it's a real nice tune," said Patti Carpenter, who has covered the circuit of Montana races for a string of local newspapers for the last five years. "I've covered a lot of races and seen a lot of stuff - he's a real gentleman and he's going to go places."
For now, Thurston said he will give his dogs 10 days rest and spend time with his wife and two daughters while preparing his next team for the next goal on his horizon - the Iditarod Trail Sled Dog Race.
- To reach Dave Shively, call 871-4253
or e-mail dshively@steamboatpilot.com