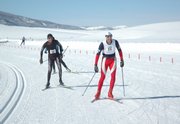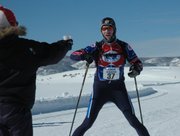 On the 'Net
Race organizer Jeff Nelson said the full results from this season's Nordic Challenge Series will be posted on the Steamboat Springs Nordic Council Web site, www.steamboatxcsk..., this week.
Steamboat Springs — Kevin Kopischke could doubly appreciate Saturday morning's doubled up cross-country ski events at the Lake Catamount Touring Center, which combined the fifth and final Nordic Challenge Series 3K/5K/10K races with the 22.5K/45K Steamboat Ski Marathon.
First off, Kopischke said he felt psyched hearing the Nordic fanatics raving about the course conditions. He had spent the previous evening, from 5 to 10 p.m., grooming the network of trails.
"The grooming was impeccable - cold snow, but groomed perfect and marked perfect," said Robert Ames, who was beaming after winning the Nordic Challenge 10K, marking the 50-year-old's first Nordic race win.
Kopischke also was pleased that plenty of volunteers showed up to help put on the events, allowing him to take part in the 45K.
"If I was just out here training, I wouldn't have gone so hard," said Kopischke, who finished 10th and was glad to get the miles in as he prepares for the 90K Coureur des Bois on March 15. "But you've got all the people out here, skiing so fast, you have to push yourself."
After Vail's Stephen White skied away with a healthy 1-hour, 43-minute win in the 45K, the battle for second place displayed two friendly competitors doing exactly what Kopischke was talking about - pushing one another to the finish.
Despite already racing 44 kilometers with one another, Steamboat Springs' Ben Barbier and Kremmling's Shawn Scholl had enough juice for an all-out sprint to a photo finish.
"I knew it was coming," Scholl said of the sprint to his tight second-place finish by a quarter-length of a ski.
"I caught (Scholl) at the feed zone, gaped him, but then he caught up and we were taking turns," Barbier said. "It was just a matter of surviving, we both knew we had that sprint."
Jim Harkness, who won the classic 45K, also was preparing for a classic crack at the Coureur des Bois. He said warm Friday temperatures that swung to cold race-day morning temperatures made for a waxing nightmare.
What started as a 5-degree day, with the marathon skiers rounding the halfway point with frost-covered faces, warmed 20 degrees by the late-morning finish. Skiers such as women's 45K winner Rachel Steer - a U.S. Biathlon Team Olympian from Anchorage, Alaska - were suddenly more concerned with the sunshine.
But even sunshine and prime conditions couldn't keep racers from feeling the fatigue of a ski marathon.
"It's nice to be out, especially that last straightaway," Kopischke said. "But even a good race still hurts."
- To reach Dave Shively, call 871-4253
or e-mail dshively@steamboatpilot.com