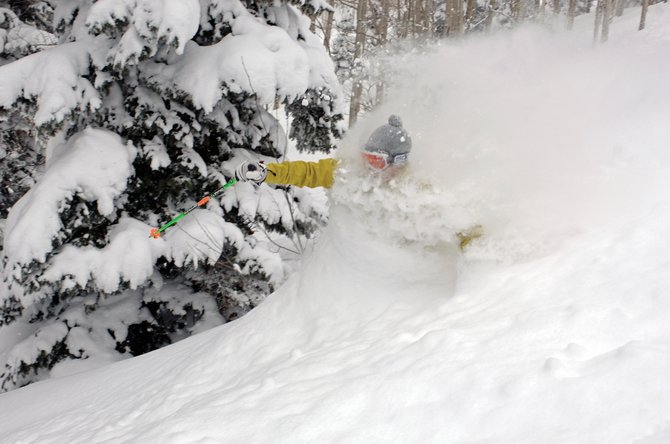 Ski area surpasses 300-inch mark
Saturday, February 2, 2008
Photo Gallery
Braving the elements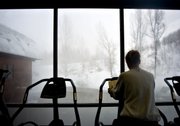 Keep up with the conditions
- For local weather conditions and recent coverage of Steamboat Springs weather, visit SteamboatToday.com/weather
- View webcams of Steamboat Springs at SteamboatToday.com/webcams
- For weather information from the National Weather Service, including storm warnings and advisories, visit www.wrh.noaa.gov/
- The Colorado Department of Transportation provides road conditions, closures and traffic cameras at www.cotrip.org. For travel information by phone, call 511 from anywhere in Colorado or dial (303) 639-1111.
- For flight information, visit www.flightview.com/ TravelTools/. By phone, call Delta Airlines at (800) 241-4141; United Airlines at (800) 864-8331; and American Airlines at (800) 433-7300
Steamboat Springs — It was the type of day when strangers exchange knowing looks and wide grins. It was the type of day when a favorite terrain feature simply can't be found because of the depth of snow. It was the type of day you seriously consider bringing a snorkel.
It was a powder day Friday on Mount Werner, and the hills were alive with the shrieks of skiers and riders laying down fresh, deep lines at Steamboat Ski Area. It was yet another powder day in a season that's quickly becoming as memorable as any winter in the past decade.
"I bet some stores didn't open on time today," joked ski patroller Terin Petersen, who claimed to see some Steamboat Springs locals on the slopes for the first time in months, if not years. "They've come out of the woodwork. Locals make a point to get out on powder days."
On a ride up the Pony Express lift at about 9 a.m., a local contractor and skier fielded calls from friends hoping to park at his job site near the Thunderhead Express lift. A snowboarder described his thought process when he stepped outside for the first time Friday morning: "Champagne : waist deep : get in the car!"
If the Steamboat Ski Area is going to make it three straight months with more than 100 inches of snow, it got a heck of a start to February on Friday. Steamboat Ski and Resort Corp. officials reported 13 inches of new snow in the 5 a.m. report, with 14 inches at the summit - pushing the ski area past 300 inches of mid-mountain snowfall this winter.
And skiers and riders who loaded the first lifts at 8:30 a.m. had a sneaking suspicion there had to be more.
Those thoughts were confirmed as further snow reports rolled in. By 11:30 a.m., an additional 11 inches had fallen at mid-mountain, with an additional 6 inches at the summit. According to Ski Corp., snow has fallen 58 out of 73 days - or 80 percent - since Nov. 21. Thirty-two of those days recorded 4 inches or more.
"This is probably my best day, for sure," snowboarder Brian Bonsell, an employee at the Steamboat Grand Resort Hotel, said on his way up the Sundown Express lift. "This is the most powder I've ever been in."
Before moving to Steamboat two weeks ago, Bonsell hadn't been on a snowboard in six years. He moved from Maui, and he said Friday's deep, feather-light snow made the snowboarding feel more like surfing.
"In order to leave there, I had to come to a place like this," Bonsell said. "I always wanted to live where it just snows every day."
On his way up the Storm Peak Express lift, Denver University student Zachary Henak screamed, "It's awesome!"
Snowboarder Tyler Conquest, a Colorado Mountain College student riding with three skier friends, said the group was finding the best snow off the Pony Express lift. They were sticking to the trees, where there are less "gapers."
"It's hella good," Conquest said. "It's great skiing. We got some first tracks and blazed down."
Speaking from near the bottom of the Closet and Shadows trails, local real estate agent Mark Dudley was taking the morning off for what he called "the best day this year, for sure." Dudley said this season has been a pleasant surprise, considering its shaky start.
Citing warm and dry conditions, Ski Corp. delayed its Nov. 21 opening nine days. At that time, Vice President of Mountain Operations Doug Allen made a reassuring comment that has proved clairvoyant: "History says when winter arrives, it arrives in earnest."
While joy overwhelmingly set the tone for Friday, not everyone on the mountain was ecstatic for the powder. Despite being one of the first people into Morningside Park when the ropes dropped at about 11 a.m., Kansan Bob Wakefield said only that the skiing was "all right."
"I'm not really to the point where I can ski in the deep snow like this," Wakefield said. "Powder days are not my favorite."
Morningside Park opened late due to the large amount of work the deep snow created for the Steamboat Ski Patrol. Ski area spokesman Mike Lane said patrollers did avalanche work in Morningside Park, the Chutes and East Face on Friday morning.
"There's a lot of work that goes into getting the mountain open, from avalanche work to digging out lifts," Lane said.
There were no serious injuries Friday, Lane said, and snow work was Ski Patrol's major focus. Petersen said there are "definitely less severe injuries on powder days because of the soft landings."
- To reach Brandon Gee, call 871-4210
or e-mail bgee@steamboatpilot.com