Past Event
Friday, March 7, 2008, 5 p.m. to 8 p.m.
Depot Art Center, 1001 13th St., Steamboat Springs
All ages / Free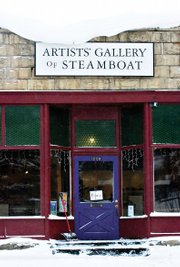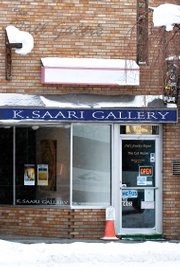 Steamboat Springs — Taking a break from hanging her show at the Artists' Gallery of Steamboat on Monday, local artist Maggie Smith talked about the gallery's success with the First Friday Art Walk.
Going into its third official month, the citywide event keeps many business and gallery doors open past their normal closing times, and has drawn a packed house for the past two featured shows at the Artists' Gallery.
"I think we were definitely ready for this," Smith said.
Today, Smith's monoprint landscapes will be on display alongside plein air oil paintings by Bonnie McGee and cast bronze sculptures by Sandy Philip Graves. Ten percent of the proceeds from any works the featured artists and five or so others sell at the opening will go to the Routt County Humane Society and the Steamboat Springs Orchestra.
The Depot
Standing in the baggage room of the Depot Art Center, Linda Laughlin posed a challenge to local artists who are not represented by a gallery: Come up with a small body of work to fill one of the room's walls.
Laughlin, director of visual arts for the Steamboat Springs Arts Council, said the room, now dubbed the Emerging Artists Gallery, is open to any SSAC member with at least six to eight works to display.
"What's different from having a wall and having a piece in a group show is that you have to have a little bit of a body of work," Laughlin said. "This is a little bit more demanding."
Featured this month are paintings by Jim McBrayer and Dona Steele, photography by Jeff Hall and Batik hangings by Rachel Radetsky.
"We're excited about this because it's really what needs to happen for artists to progress," Laughlin said. "We're trying to foster more rooms for more artists."
K. Saari Gallery
Go to art events in Steamboat with any regularity, and Laura Wait will become a familiar face.
Her work, however, has the tendency to take a new turn each time. And her exhibit at K. Saari Gallery demonstrates that, showcasing two and a half decades of experience in book binding.
The show, "New Work," features a series of books, paintings and prints that are a continuation of Wait's interest in spirals and all their related symbolism.
So, her books have texture-filled, multilayer designs dedicated to the Fibonacci sequence, labyrinths and Chartres Cathedral.
"I'm interested in the symbolism," Wait said of creating dozens of works based on haybales and concentric circles.
"It's like a season in a year. You go in, you go out, and it's also a thing about where you find yourself."