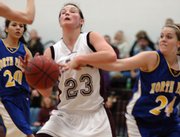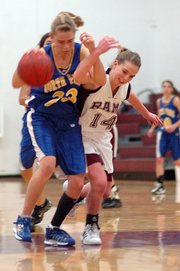 Game statistics
North Park 53, Soroco 46
North Park 14-12-11-16 - 53
Soroco 14-9-9-14 - 46
- North Park: Hanson 3 4-6 10, Pantle 1 2-9 4, McNaney 2 3-4 8, Rizor 10 4-5
24, Irvine 2 3-4 7. Totals 18 16-27 53.
- Soroco: George 9 1-2 22, S.Miles 1 1-4 3, L.Miles 1 0-0 2, S.Rossi 4 1-2
12, C.Rossi 1 2-4 4, Maes 1 1-6 3. Totals 17 6-18 46.
- 3-pointers: North Park (1) - McNaney. Soroco (6) - George 3, Rossi 3.
Soroco girls basketball, 2008-09
7:30 p.m. Dec. 2 at Moffat County JV
Dec. 5, Soroco 65, Clear Creek 24 at West Grand Tournament; (2-0)
Dec. 6, West Grand 47, Soroco 27 at West Grand Tournament; (2-1)
Dec. 9, Soroco 58, Steamboat JV 38; (3-1)
Dec. 12, Hayden 73, Soroco 42; (3-2)
Dec. 13, Soroco 51, Vail Christian 37; (4-2)
Dec. 20 North Park 53, Soroco 46; (4-3)
Jan. 10, Rangely 63, Soroco 36; (4-4)
Jan. 15, Soroco 36, Moffat County J.V. 31; (5-4)
Jan. 16, North Park 49, Soroco 40; (5-5)
Jan. 23, Soroco 60, De Beque 29; (6-5)
Jan. 24, Meeker 59, Soroco 39;(6-6)
Jan. 30, Plateau 60, Soroco 49;(6-7)
Feb. 6, West Grand 56, Soroco 50;(6-8)
Feb. 7, Paonia 64, Soroco 51;(6-9)
Feb. 13, Hayden 55, Soroco 39;(6-10)
Feb. 14, Soroco 58, Vail Christian 37;(7-10)
Feb. 21 district play at home sites
Feb. 27-28 districts at Meeker
Oak Creek — The Soroco girls basketball team accomplished one of the goals it set for Saturday's game against North Park.
The Rams held North Park's best player, Kaitlyn Hanson, in check, limiting the junior to just three baskets.
The Wildcats' Hillary Rizor did plenty to pick up the slack, however, and her game-high 24 points helped wreck Soroco's other goal for the afternoon: breaking an unfortunate streak.
The Rams fell to North Park, 53-46, losing for the ninth consecutive time in the series. North Park may have a stranglehold on the series, but Soroco made a game of it Saturday. The Wildcats held just a three-point lead at halftime. The lead expanded early in the second half, but the Rams rallied late.
Soroco freshman Madison George canned a 3-point shot to pull her team within three points, at 40-37. Rizor scored at the other end of the court after grabbing an offensive rebound, but George came through again, this time sinking a short shot to again cut the gap to three.
"For as young as we are, we played all right," Soroco coach David Bruner said. "The little things caught up to us in the end, though."
George led the way for the Rams. She sank three 3-point shots and finished with 22 points. Sarajane Rossi also hit a trio of treys and with 12 points.
There was a drop-off after that, however. Only four other Soroco players scored, and none of those had more than four points.
"Madison played really well. She led us in points and played defense on Hanson all night," Bruner said.
The team made just six of 18 free throw attempts and was similarly ineffective shooting from the floor.
Soroco continued to hang in the game late in the fourth quarter. George hit another 3-point shot to cut the gap to five, and Shelby Miles scored to make it five again with less than two minutes remaining.
North Park did plenty to help. It missed eight consecutive free throws through one stretch and hit just five of 16 in the quarter. But Christina Pantle scored after North Park broke Soroco's full court press, helping squash any hope at a comeback.
"We just weren't making our shots tonight," Bruner said. "When we're making our shots, we can hang with anyone. We're getting better at it, but we're not a very good shooting team still. We have to get better, and to do that, you just have to keep shooting."