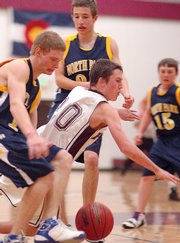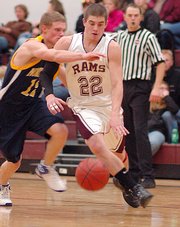 Game statistics
Soroco 78, North Park 28
North Park 4-5-11-7 - 28
Soroco 20-19-17-22 - 78
- North Park : Berry 3 1-3 7, Anderson 1 2-2 4, Lytle 4 2-5 10, Sanchez 1 0-0 3, Richard 2 0-0 4, Burdick 0 0-1 0. Totals 11 5-15 28.
- Soroco: Miles 8 4-6 20, Tibbetts 4 0-0 9, Estes 6 1-4 13, Schmidt 1 0-0 3, Anderson 1 0-0 2, Mason 5 1-2 10, Bell 0 2-2 2, Watwood 3 3-5 9, Donaldson 2 0-1 4, Rossi 2 0-0 6, Lombardi 0 0-2 0. Totals 32 10-21 78.
- 3-pointers: North Park (1) - Sanchez. Soroco (3) - Rossi 2, Tibbetts.
Soroco boys basketball, 2008-09
Dec. 2, Soroco 73, Moffat County J.V. 53; (1-0, 0-0)
Dec. 5, Soroco 72, Clear Creek 36 at West Grand Tournament; (2-0)
Dec. 6, Soroco 51, West Grand 32 at West Grand Tournament; (3-0)
Dec. 9, Soroco 46, Steamboat J.V. 41; (4-0)
Dec. 13, Soroco 58, Vail Christian 45; (5-0)
Dec. 18, Hayden 63, Soroco 54; (5-1)
4 p.m. Dec. 20 vs. North Park
Jan. 10, Soroco 74, Rangely 71; (7-1)
Jan. 15, Soroco 64, Moffat County J.V. 46; (8-1)
Jan. 16, Soroco58, North Park 21;(9-1)
Jan. 23, Soroco 74, De Beque 59;(10-1)
Jan. 24, Meeker 69, Soroco 54;(10-2)
Jan. 30, Plateau Valley 60, Soroco 44; (10-3)
Feb. 6, Soroco 49, West Grand 30;(11-3)
Feb. 7, Soroco 79, Paonia 66;(12-3)
Feb. 13, Hayden 47, Soroco 42;(13-3)
Feb. 14, Soroco 62, Vail Christian 42;(14-3)
Feb. 21 district play begins
Feb. 27-28 districts at Meeker
Oak Creek — The Soroco boys basketball team ruined its chance to take a perfect record into the two-week holiday break Thursday, when a rash of turnovers led to a loss at Hayden. But the Rams played squeaky clean Saturday and enter the break on a high note after downing North Park, 78-28.
"We had a lot better motivation coming off that loss to Hayden," senior Bobby Mason said. "We knew we needed to win going into the long break."
Soroco dominated the whole game. It scored the first eight points of the game and built its lead to 16 points when Matt Watwood sank a free throw in the closing seconds of the first quarter.
The Rams kept the pressure on in the second quarter and led 36-6 when Ryan Tibbetts stole a pass and went the length of the court for a layup.
The Wildcats finally answered back with a free throw and a basket, but Soroco was already long gone, on its way to a blowout victory.
All that had gone so wrong against Hayden improved Saturday.
Soroco didn't stumble into nearly as many turnovers and used its defense to dictate the pace of the game.
Cody Miles had eight first quarter points and went on to lead the team with 20. There were plenty of points to go around, however.
Alex Estes scored 13, and Mason added 10. In all, 10 Rams scored in the game.
North Park, meanwhile, had just three players score in the first half.
"Our fast break was working and the lanes were always open, so we took advantage of it," junior Alex Estes said. "Sometimes, it's hard to get much out of a game like this because of the tempo. We didn't always have as much intensity as we should have."
That lack of intensity didn't show on the scoreboard.
Soroco scored plenty of points on fast breaks, with Estes and Tibbetts coming up with back-to-back steals and layups in the second quarter. The Rams got plenty more by running an efficient half-court offense.
Mason was one of the primary beneficiaries of a strong passing performance by nearly everyone on the team.
He scored his first bucket when Miles found him alone under the basket. He scored again moments later on a breakaway, when Tibbetts slipped him the ball around a defender. Estes hooked him up for an easy basket in the second quarter, then did so again in the third.
All five of Mason's baskets came with an assist.
"We got out in transition and ran the court well," Mason said. "Then, when we ran our offense, it was clicking, and we could get the ball from low post and high post. It was easy to spread the ball around."
Mason said the big win definitely was enough to help the team forget about Thursday's game in Hayden.
"After that game, we were down and angry," Mason said. "We definitely knew this was a must-win, and we got it taken care of."