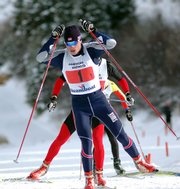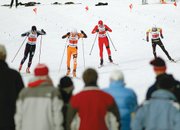 Steamboat Springs — The course for Friday's sprint portion of the Steamboat Junior Nationals Nordic skiing qualifier event at Howelsen Hill is narrow with plenty of steep climbing sections.
That made it all the more important for athletes to get away from the starting line fast and grab a prized position at the front of the pack while the trail still was friendly to passing.
That's exactly how Steamboat Springs Winter Sports Club skier Erik Lynch won his race.
Lynch blasted away from the starting line of the J2 event, flew away from the baseball field, up a ridge on the face of Emerald Mountain in downtown Steamboat and on to victory.
"What was important in this race was getting into the hole shot. Most of the time, the first 200 meters decide the race," SSWSC Nordic ability coach Josh Smullin said. "If you nailed that, stayed on your feet and skied down the middle of the course, it was tough to pass."
Lynch led the way for a strong performance from the SSWSC, skiing Friday and today in the Nationals qualifier on its home snow.
Lynch, typically a Nordic combined competitor, looked perfectly at home sticking to the cross-country skiing. He never gave up the lead and cruised back down and across the finish line.
Right on his heels was teammate Max Scrimgeour. Aleck Gantick finished fourth to bolster the club's performance in the six-racer final heat.
"Erik and Max skied really well. That's an extremely good result," Smullin said. "Also, to have Aleck right there in fourth place, that's great."
Steamboat also had a particularly strong showing in the women's open division, filled by racers 16 years and older.
Mary Rose and Molly Newman, both SSWSC racers, fought a pitched battle and finished second and third, respetivly.
Katherine Ingalls and Alexa Ruppel were 11th and 12th in the division.
Michaela Frias was fourth in the J2 girls race, ahead of teammates Lucy Newman, Haley Piske and Mallory Richey, who filed in sixth, seventh and eighth.
Dylan Reed was 10th and Tucker Olsen 11th in the boys J2 race.
Elsewhere for Steamboat, Ben Berend was third in the boys J3 sprint race.
Tyler Terranova won the boys J5 race with Sven Tate finishing third.
Madison Keeffe won the girls J3 race, ahead of second-place Dori McNeill, and Paula Cooper won the J5 girls race.
Action resumes at Howelsen Hill at 9 a.m. today for the classic skiing portion of the event.