Game statistics
Green River 68, Steamboat 41
1 2 3 4 Final
Green River 16 19 11 22 - 68
Steamboat 14 7 14 6 - 41
Individual statistics
Green River - James 5 0-0 14, Martinez 5 0-0 10, Rood 5 8-10 18, Palmer 2 2-2 8, Williams 1 0-0 2, K.Carroll 0 0-2 0, Siddoway 3 0-0 8, Thayne 1 0-0 2, Hastert 1 0-0 2, Tippy 1 0-0 2, Bunderman 0 0-2 0. Totals 25 10-16 68.
Steamboat - A.Wood 4 2-2 10, C.Wood 2 2-4 7, Geppert 2 0-0 4, Brassell 2 0-0 5, Spady 3 0-0 7, Hinder 2 1-1 5, Pivarnik 1 1-2 3. Totals 16 6-9 41.
3-pointers: Green River (8) - James 4, Palmer 2, Siddoway 2. Steamboat (3) - C.Wood, Spady, Brassell.
Steamboat Springs boys basketball, 2008-09
Dec. 5, Steamboat 48, Roaring Fork 34 at Roaring Fork Tournament; (1-0)
Dec. 6, Steamboat 53, Basalt 36 at Roaring Fork Tournament; (2-0)
Dec. 11, Castle View 57, Steamboat 38 at Steamboat ShootOut tournament; (2-1)
Dec. 12, Steamboat 70, Summit 41 at Steamboat ShootOut tournament; (3-1)
Dec. 13, Green River, Wyo., 68, Steamboat 41 at Steamboat ShootOut tournament; (3-2)
Dec. 19, Evanston, Wyo. 49, Steamboat 37 at Flaming Gorge Classic basketball tournament; (3-4)
Dec. 20, Cheyenne East 41, Steamboat 38 at Flaming Gorge Classic basketball tournament; (3-5)
Jan. 9, Steamboat 46, Battle Mountain 23; (4-5)
Jan. 10, Steamboat 55, Eagle Valley 30; (5-5)
Jan. 16, Steamboat 78, Palisade 46; (6-5)
Jan. 17, Steamboat 66, Delta 37; (7-5)
Jan. 23, Steamboat 65, Rifle 38; (8-5)
Jan. 24, Steamboat 47, Glenwood Springs 45; (9-5)
Jan. 27, Steamboat 44, Moffat County 32;(10-5)
Jan. 30, Steamboat 63, Eagle Valley 41;(11-5)
Feb. 6, Steamboat 50, Palisade 44;(12-5)
Feb. 7, Steamboat 54, Delta 43;(13-5)
Feb. 13, Steamboat 54, Rifle 45;(14-5)
Feb. 14, Glenwood Springs 61, Steamboat 51;(14-6)
Feb. 17 vs. Moffat County, 7:30 p.m.
Feb. 20 at Battle Mountain, 7:30 p.m.
Feb. 25 state playoffs begin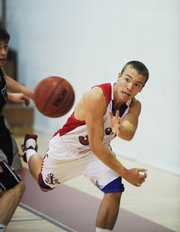 Steamboat Springs — It was feast or famine for the Steamboat boys basketball team, playing for fifth place Saturday in their own tournament at Steamboat Springs High School.
Unfortunately for the Sailors, their better moments were only enough to keep pace with Green River, and their weaker stretches were enough to turn the game into a rout.
Steamboat lost the game and fell to sixth place in the tournament via a 68-41 defeat.
"We're still awfully young for a varsity team," senior Alex Wood said, assessing Steamboat's streaky play. "We didn't get high enough on our highs, and we got way too low on our lows."
Wood led Steamboat with 10 points but fouled out in the fourth quarter. That was far from the worst news the Sailors
found in that final eight minutes, however. They scored just six points and were held scoreless for the first 6:33 of the period. What had been at least a glimmer of a comeback in the third quarter was swept away, and the team was outscored by 16 late in the game.
Turnovers plagued Steamboat throughout the afternoon, but they weren't the critical element of the collapse. Instead, try as they might, Steamboat just couldn't make a shot.
Ball after ball clanged off the rim, and Green River seemed to push the gap a little wider with every miscue.
Steamboat shot 28 percent on the night and made just three of 17 attempted 3-point shots. Alex Wood was the only player to make more than two baskets.
"It's hard to make a comeback when you're not hitting shots," Steamboat coach Luke DeWolfe said. "When you play good teams and shoot like that, you can't hang in there."
Turning over the ball also was a major problem for the team. Turnovers dashed Steamboat's hopes in the tournament's first game, a Thursday loss to Castle View.
It was less of a problem in Friday's victory against Summit, but it was there again Saturday, especially in the first half.
Steamboat lost the ball 17 times in the first two quarters alone. It survived in the first quarter thanks to strong play from Alex Wood, Nelson Brassell and Jack Spady. Wood scored three times in the period.
The numbers caught up to the Sailors in the second quarter. Charles Wood hit a 3-point shot to give Steamboat a 21-18 lead with six minutes remaining before halftime.
These were the last points of the half for Steamboat. The Wolves scored the next 20 points in the game to take control and deliver the Sailors their second loss in three home games.
Steamboat cut the lead to single digits late in the third quarter, but the disastrous fourth rendered that surge futile.
"We're going to have to go back and practice harder," Alex Wood said. "We play some really good teams in the next week, and we'll have to focus more in practice if we're going to win."
- To reach Joel Reichenberger, call 871-4253 or e-mail jreichenberger@steamboatpilot.com