Castle View 57, Steamboat 38
Castle View: 12-13-06-26 - 57
Steamboat: 12-07-05-14 - 38
Castle View (3-1) - Lambert 4 1-3 12, Pender 8 7-9 23, Knoll 3 0-0 8, Wiedman 0 0-0 0, McGee 4 1-2 9, Story 1 0-0 3, Kirby 1 0-0 2. Totals 21 9-14 57
Steamboat - Forsyth 1 0-0 2, Brassell 4 0-0 8, A.Wood 5 0-0 10, C.Wood 2 3-7 7, Spady 3 0-0 8, Pivarnik 0 0-0 0, Hinder 1 0-1 2, Geppert 1 0-0 2. Totals 17 3-8 38.
3-pointers: Castle View (6) Lambert 3, Knoll 2, McGee. Steamboat (2) Spady 2.
Other Steamboat ShootOut scores
Moffat County 78, Green River 64
D'Evelyn 76, Liberty 63
Montrose 91, Summit County 54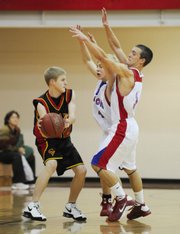 Steamboat Springs boys basketball, 2008-09
Dec. 5, Steamboat 48, Roaring Fork 34 at Roaring Fork Tournament; (1-0)
Dec. 6, Steamboat 53, Basalt 36 at Roaring Fork Tournament; (2-0)
Dec. 11, Castle View 57, Steamboat 38 at Steamboat ShootOut tournament; (2-1)
Dec. 12, Steamboat 70, Summit 41 at Steamboat ShootOut tournament; (3-1)
Dec. 13, Green River, Wyo., 68, Steamboat 41 at Steamboat ShootOut tournament; (3-2)
Dec. 19, Evanston, Wyo. 49, Steamboat 37 at Flaming Gorge Classic basketball tournament; (3-4)
Dec. 20, Cheyenne East 41, Steamboat 38 at Flaming Gorge Classic basketball tournament; (3-5)
Jan. 9, Steamboat 46, Battle Mountain 23; (4-5)
Jan. 10, Steamboat 55, Eagle Valley 30; (5-5)
Jan. 16, Steamboat 78, Palisade 46; (6-5)
Jan. 17, Steamboat 66, Delta 37; (7-5)
Jan. 23, Steamboat 65, Rifle 38; (8-5)
Jan. 24, Steamboat 47, Glenwood Springs 45; (9-5)
Jan. 27, Steamboat 44, Moffat County 32;(10-5)
Jan. 30, Steamboat 63, Eagle Valley 41;(11-5)
Feb. 6, Steamboat 50, Palisade 44;(12-5)
Feb. 7, Steamboat 54, Delta 43;(13-5)
Feb. 13, Steamboat 54, Rifle 45;(14-5)
Feb. 14, Glenwood Springs 61, Steamboat 51;(14-6)
Feb. 17 vs. Moffat County, 7:30 p.m.
Feb. 20 at Battle Mountain, 7:30 p.m.
Feb. 25 state playoffs begin
Steamboat Springs — Turnovers, poor shooting and a boy named Jade spelled trouble for the Steamboat Springs High School boys basketball team in the opening game of its home tournament.
The Sailors couldn't overcome long listless stretches, and despite an early fourth-quarter rally couldn't hang with Castle View, falling into the tournament's consolation bracket via a 57-38 defeat.
"We have to learn from our mistakes," Steamboat coach Luke DeWolfe said. "We made a lot of mistakes today. We have to recognize what wasn't working and learn from that."
Much of the damage may have been self-inflicted - witness Steamboat's 35-percent shooting and its 19 turnovers. The rest seemed to be wrought by Castle View's Jade Pender, a 6-foot-5 junior who hurt Steamboat about every way possible.
He was deadly from the field, racking up a game-high 23 points. He was sharp from the free throw line, adding seven points there on nine attempts. He grabbed 12 rebounds. He even drew the fifth foul on one of Steamboat's few effective players, sinking a basket while getting fouled by Nelson Brassell.
"Jade played hard. That was the difference with him," Sabercats coach Tory Mansfield said. "He got a lot of put-backs tonight because he played hard the whole game."
As solid as Pender was, Castle View's strength extended beyond one player. An intense half-court trap defense the Sabercats let loose late in the first quarter set the stage for everything that followed.
Steamboat was in control early, taking an 8-2, then 12-6 lead late into the first period. Brassell had little trouble imposing his will in the lane, and Steamboat's Alex Wood, who finished with 10 points to lead the team, scored off two offensive rebounds and had six points in the first quarter.
The trapping pressure changed everything and frustrated the Sailors so much that they nearly were at a loss for words after the game.
"There was no teamwork," Brassell said after careful consideration. "No one listened to the coach, and we didn't trust each other. That wasn't Sailors basketball out there."
Castle View rallied to tie the game at the end of the first quarter, then took a lead early in the second. Steamboat, meanwhile, began to settle for long-range shots. At least, that's what the Sailors settled for when they could get something off. They ended the first quarter with back-to-back turnovers, then had two more to start the second quarter.
In the first four minutes of the second period, they had seven possessions. Five were turnovers, one ended on an offensive foul, and the last was an off-balance 3-point attempt.
"It was great defensive pressure by them," DeWolfe said. "We didn't respond to their pressure, and that's a byproduct of the youth and inexperience on our team. We kept turning it over, and you can't make mistakes like that against a 4A team."
The loss dropped the Sailors out of the running to win the tournament and into a game today against Summit. The Tigers lost to Montrose on Thursday night, 91-54.
Steamboat spent most of the second and third quarters hanging within two possessions. Castle View opened it up in the fourth quarter, and the Sailors faded fast.
Still, the ugly final score didn't do much to squash their confidence.
"We'll never lose the confidence," Brassell said. "We need to play with heart. We need to play with confidence, and we need to start trusting each other. We need to play Sailors basketball."