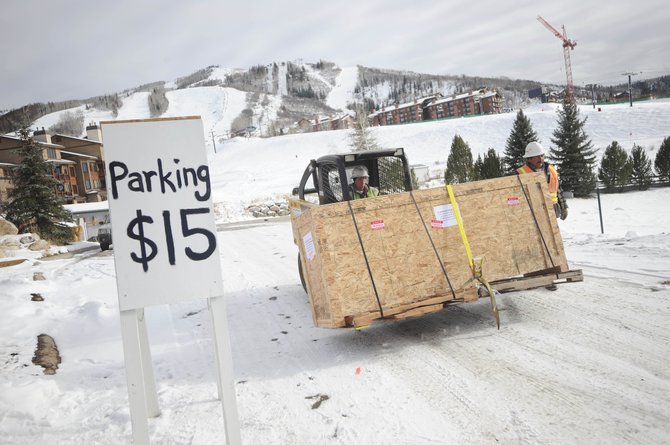 Slopeside parking spots for $1,000 apiece
Youth ski group offers $1,000 passes
Thursday, December 11, 2008
Learn more
To reserve a parking spot, call Rick DeVos at 970-879-0695, ext. 103, or e-mail ricksswsc@yahoo.com.
Steamboat Springs — The Steamboat Springs Winter Sports Club hopes its latest fundraiser appeals to people seeking ski-in, ski-out parking at the base of the Steamboat Ski Area.
The nonprofit club, which helps young athletes reach their goals on the slopes, is facing a tough funding climate, Executive Director Rick DeVos said. The group has gotten permission to sell passes for parking spots at the old Thunderhead Lodge. A season parking pass costs $1,000, and daily parking is available for $15 until all the spots are taken, DeVos said.
"This is really an important fundraiser for the club," he said. "In a year like this, with funding challenges, this might be the catalyst for us to be able to break even."
The lot is on Ski Time Square Drive, just past Torian Plum Plaza on the right side of the road. About 10 of the 50 available spaces have been rented, DeVos said. People who buy a pass may park in their assigned, numbered slot through ski season. The passes can be transferred between vehicles, DeVos said.
Thunderhead Lodge was demolished this summer, along with other Ski Time Square buildings. The Atira Group is redeveloping the property on behalf of Washington, D.C.,-based Cafritz Interests. Atira has supported the Winter Sports Club in the past, DeVos said, and is donating the use of the lot.
"For us, this is just one of those very late-developing opportunities, and we just really appreciate these guys giving us this chance here," DeVos said.
Mark Mathews, Atira's vice president of development, said the company wanted to help because the Winter Sports Club is important to the community.
"We started just talking to them because we recognized they had a need for drop-off, particularly for their Saturday morning programs," Mathews said. "As we were talking about that further, they came back to us with an additional proposal, because they realized they were going to be a little tight with fundraising this year."
The Winter Sports Club will serve nearly 1,175 athletes this year and has a staff of 130, DeVos said.
"We're just trying to contain costs here for families, so this kind of fundraising is important," he said.