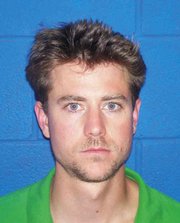 Steamboat Springs — A Routt County man facing multiple felonies in connection with a Hilton Gulch drug bust earlier this year accepted a plea agreement Wednesday in Routt County District Court. He is expected to serve 90 days in jail.
Kyle Chandler Lindahl was arrested in September in connection with a marijuana growth and distribution operation discovered south of Steamboat Springs. Lindahl, 27, pleaded guilty Wednesday to cultivation of marijuana, a Class 4 felony, and possession of 1 to 8 ounces of marijuana, a Class 1 misdemeanor.
Pending a pre-sentence investigation by the Probation Department, Lindahl is due to spend four years on supervised probation for the felony charge, and serve 90 days in jail on the misdemeanor, attorney Kris Hammond said. He also will pay $2,100 in fines and have his driver's license suspended for 90 days.
Lindahl originally faced Class 4 felony charges of cultivation of marijuana, possession of marijuana with intent to manufacture or distribute, a Class 5 felony charge of possession of 8 or more ounces of marijuana, and a charge of possession of drug paraphernalia, a petty offense.
On the cultivation of marijuana charge, sentences usually are two to six years in prison, Judge Shelley Hill said Wednesday.
The marijuana operation in question was discovered in the 21800 block of Routt County Road 41A, in the Hilton Gulch area south of Steamboat Springs, after a Routt County Sheriff's Office deputy received a tip from the property owner Sept. 12. In addition to a grow operation in three rooms above a two-car garage on the property, a search also turned up bags of marijuana ready for sale and a loaded .22 caliber rifle.
Investigators found plants as tall as 3 feet growing at the facility, in addition to immature plants, drying strands of marijuana and dozens of discarded plants that already had been harvested.
Lindahl was arrested Sept. 13 on suspicion of possession of marijuana, sale of an illegal substance and possession of a deadly weapon. He was released from Routt County Jail the next day on $20,000 bond.
Lindahl is set to appear for sentencing at 8:30 a.m. Jan. 22 in Routt County District Court.
More charges filed in Hayden kidnapping case
The District Attorney's Office will file additional felony charges this week against two Hayden men accused of kidnapping a 17-year-old boy and threatening to shoot him in an alleged dispute over a stolen gun.
Joey Allen Vreeman, 22, and Kenneth Edward Muhme, 30, each were originally charged with felony counts of second-degree kidnapping, menacing and robbery, and misdemeanor charges of criminal mischief. Each also will face four additional counts of felony aggravated robbery and two counts of crime of violence, which would trigger a mandatory prison sentence if either is found guilty.
"Given a fact that there was a shotgun and a knife involved, and there were threats, those charges are appropriate," prosecutor Carl Stahl said Wednesday.
In August, Vreeman reported a handgun stolen from his residence and indicated to Hayden police that he suspected the alleged kidnapping victim and another juvenile took it.
Vreeman and Muhme allegedly confronted the boy at a rest stop bathroom just each of the Moffat-Routt county line on U.S. Highway 40 on Sept. 5. After putting the boy in a chokehold, the two allegedly carried him out of the bathroom and put him in a vehicle after rifling through his pockets and taking cash, a pocket knife and sunglasses, according to sworn affidavits.
Vreeman then allegedly drove to Elkhead Reservoir, where he threatened to shoot the boy with a shotgun, according to sworn affidavits. During the drive, Muhme allegedly pulled a knife and threatened to use it if the boy "did something stupid," and repeatedly threatened to beat him with a sock full of quarters, the affidavits state.
If convicted of kidnapping - the most serious crime each man is charged with - they could face eight to 24 years in prison on the Class 2 felony charge.
Vreeman was arrested Sept. 5 by the Hayden Police Department. Muhme was arrested the following day by the Routt County Sheriff's Office. They were released from Routt County Jail on $20,000 bonds on Sept. 8.
Muhme and Vreeman are set to appear in Routt County Court for preliminary hearings at 8:30 a.m. Jan. 16.