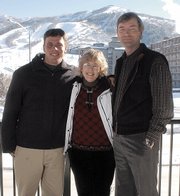 Crested Butte Mountain Resort has been sold to a Florida company, though Tim and Diane Mueller will remain in charge of resort operations.
Okemo Mountain Resort in Vermont and Mount Sunapee ski resort in New Hampshire also were part of the sale to CNL Properties of Orlando, Fla.
Okemo spokeswoman Bonnie MacPherson says the $132 million sale is a leaseback agreement so that, operationally, nothing will change.
CNL already owns some well-known ski resorts in New England, including Sunday River and Sugarloaf in Maine, and Bretton Woods and Loon Mountain in New Hampshire.
The Muellers were part of an unsuccessful bid to purchase the Steamboat Ski Area from debt-ridden American Skiing Co. in February 2002. The two sides had reached an agreement in principle, but American Skiing Co. officials never showed up at the closing. Triple Peaks, led by the Muellers, had planned to purchase the resort for $91.4 million. American Skiing Co. instead sold Heavenly Ski Resort in California to Vail Resorts.
The abandoned deal led to a lawsuit, which finally was settled for cash in July 2004. The terms of the settlement gave the Muellers 30 days to take part in exclusive negotiations with American Skiing Co. for the purchase of the Steamboat Ski Area. American Skiing Co. eventually sold the Steamboat Ski Area to Intrawest in March 2007 for $265 million.
The Muellers purchased Crested Butte Mountain Resort in 2004. On Friday, the Denver Business Journal reported that the agreement between the Muellers and CNL Properties gives the Muellers a 40-year lease on the Crested Butte resort, meaning they will operate the mountain but CNL will own the resort assets.
What remains unclear is whether the sale in any way changes the 2007 lawsuit in which the Muellers accuse New Hampshire Gov. John Lynch of breaking a lease agreement, refusing to let them develop on 175 acres of state park land and build 250 slopeside condominiums.
The Muellers' argument rests upon what they say is an error in the property lines described in the original lease. They claim that the resort's boundaries were understood to extend to the northern and western boundaries of the state park but that a surveying mistake failed to note that.
State officials said CNL executives were made aware of the state's view with regard to the boundary dispute prior to the purchase.
The Muellers first began running Sunapee after the state approved a long-term lease in 1998 and spent millions to expand snowmaking and improve the trail network.