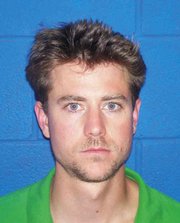 Steamboat Springs — The case of a Routt County man facing felony drug charges in connection with a Hilton Gulch marijuana operation was continued Wednesday in Routt County Court.
Kyle Chandler Lindahl was arrested in September in connection with a major marijuana growth and distribution operation discovered south of Steamboat Springs. He has not entered a plea.
A plea agreement still is being worked out with the District Attorney's Office, Lindahl's attorney, Kris Hammond, said Wednesday.
Lindahl, 27, faces Class 4 felony charges of cultivation of marijuana, possession of marijuana with intent to manufacture and distribute, and a Class 5 felony charge of possession of 8 or more ounces of marijuana.
The complaint filed Oct. 2 by the District Attorney's Office notes Lindahl allegedly committed the felonies while in possession of, or proximity to, a deadly weapon, allowing him to be charged as a special offender. Special offender status could be considered an aggravating factor in any eventual sentencing.
Class 4 felonies typically carry a maximum sentence of six years imprisonment. Class 5 felonies usually carry a maximum of three years.
Lindahl also is charged with possession of drug paraphernalia, a petty offense.
The marijuana operation in question was discovered in the 21800 block of Routt County Road 41A, in the Hilton Gulch area south of Steamboat Springs, after a Routt County Sheriff's Office deputy received a tip from the property owner Sept. 12. In addition to a grow operation in three rooms above a two-car garage on the property, a search also turned up bags of marijuana ready for sale and a loaded .22 caliber rifle.
Investigators found plants as tall as 3 feet growing at the facility, in addition to immature plants, drying strands of marijuana and dozens of discarded plants that already had been harvested.
Lindahl was arrested Sept. 13 on suspicion of possession of marijuana, sale of an illegal substance and possession of a deadly weapon. He was released from Routt County Jail the next day on $20,000 bond.
Lindahl is due to appear in Routt County District Court at 2:30 p.m. Dec. 10.