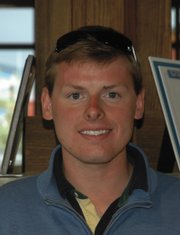 Steamboat Springs — Age: 23
Occupation: Sales, Cook Chevrolet and Subaru
Place of birth: Pittsburgh
Q. When did you move to Routt County, and what brought you here?
A. In May 2008. I moved to Steamboat Springs with my twin brother because of the incredible champagne powder skiing.
Q. What's the biggest risk you've taken recently?
A. Packing all of my belongings into a 12-foot box trailer and moving to Steamboat Springs.
Q. Has a book ever changed your life? What was it and why?
A. The Bible. Accepting Jesus into your life can change everything.
Q. What's the best piece of advice you've ever been given?
A. God gave you two ears and one mouth. Listen twice as much as you speak.
Q. What three things would you want people to know about you?
A. 1. I am an identical twin. 2. I am a light-hearted person. 3. I am single and ready to mingle.
Q. What did you want to be when you grew up?
A. A professional skier.
Q. If you could invite any four people to dinner, who would they be and what would you talk about?
A. Bill Clinton (about Monica Lewinsky), Albert Einstein (about his feelings on The Manhattan Project), Glen Plake (about his injury before the Olympics), and Barack Obama (about being a candidate for president).
Q. In the Meatloaf song, "I'd do anything for love, but I won't do that," what is that?
A. Work in a cubicle.
Q. Who is your favorite superhero? Why?
A. Spawn. He's good, yet he's a vigilante.
Q. Do you have a tattoo? If so, what of and why did you choose it?
A. Yes - stars, because anything is possible. Reach for the stars.
Q. If you could go back in time, to what event or time period would you go?
A. The Jurassic Period - let's end the myths about what the dinosaurs were really like.
Favorites
Book: "Where the Sidewalk Ends" by Shel Silverstein
Song: "There's No 'I' in Team" by Taking Back Sunday
Color: Blue
Food: Pizza
Sport to watch: Pittsburgh Steelers football