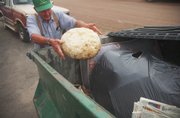 When Al Wentworth unearthed a soccer ball-sized puffball mushroom in South Routt last summer, he figured there was no chance he'd ever find a larger wild mushroom.
He was wrong.
"My arms are getting tired holding this heavy (mushroom)," Wentworth said with a smile Tuesday as he posed with this season's 20-pound find.
Seasonal Routt County resident Wentworth, 71, lives the other half of the year in Englewood. Since he retired in 2000, he has spent the warmer months working as a ranch hand for Jim and Dean Rossi outside Yampa.
Unfortunately for the record books, the Routt County Fair already was over when he and Jim Rossi came across the puffball mushroom while haying last weekend.
"It looked like a big, white rock just sitting there," Wentworth said. "My God, I didn't know they grew that big."
After bringing the mushroom to town and polling the regulars at the bar at the Royal Motel, Wentworth took the mushroom to Montgomery's General Merchandise for its official weigh-in, where it clocked in Monday at 20 pounds, 2 ounces. Don Asta guessed the closest, after a last-minute revision.
"First I guessed 22 pounds, then I backed it off to 20," Asta said. "You don't see a mushroom that big that often."
Wentworth said he could not have imagined a mushroom weighing more than about 11 or 12 pounds. Last year's find, the size of a soccer ball and weighing only 4 or 5 pounds, fed four people.
"You slice it up thin and fry it up with butter, salt and pepper," he said. "It doesn't take long to cook up a mushroom."
A variety of mushroom-related Web sites warn that puffball mushrooms can be mistaken for poisonous varieties such as the Destroying Angel, Death Cap and Pigskin Poison Puffball species. When slicing open a puffball, look for gills, stalks, caps or other differentiations in the flesh that might indicate it isn't an edible puffball.
The flesh of puffball mushrooms is white, solid and homogenous.
Unlike last year's giant mushroom feast, this year's find never made it to Wentworth's dinner table. The 20-pounder likely would not have been as tender as last year's find, which Wentworth described as looking "like a loaf of freshly baked bread" when you sliced it.
Instead, the behemoth is headed to its final resting place at the Milner landfill.
"When I picked it, it smelled good," Wentworth said. "But this one got too ripe. I think the bugs got it."
"I'm gonna chuck it in the Dumpster," he said before not-so-ceremonially tossing the 20-pound wonder into the trash.
The mushroom most likely capitalized on the long, wet winter and the ample runoff in the spring, Wentworth said.
"I don't think I could top that," he said.