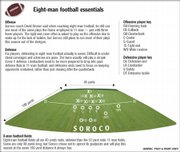 Soroco football coach David Bruner has said it so many times, the words almost have lost their effect.
"It's really not that different," he said again late Thursday afternoon, relaxing in his office on the eve of his team's first game playing eight-man football.
Maybe, but there was a moment last week during the Rams' only preseason scrimmage when it was obvious this whole thing may take a little getting used to. Soroco's starters took the field against an experienced eight-man team from Vail Christian.
The freshman and junior varsity players left on the sideline looked on from where they always had, back by the benches and just a few inches inside Oak Creek's dirt track.
It was five minutes before anyone realized they all were standing 30 feet from the actual sideline, the field repainted to fit eight-man's 40-yard width instead of the traditional 52-yard field.
Growing pains - or lack thereof
Soroco's decision to drop from 11-man football to eight-man was considered carefully. The decision wasn't ever forced on the program, but it became an option when Soroco's enrollment slipped below 125 students.
Still, that didn't decide the matter as the school could have played up a division.
There was so much worry involved, Bruner said - worry from all sides.
Dropping down a division is costly, and that has nothing to do with painting new lines on the field.
The Rams aren't post-season eligible this season, so no matter how well they grasp their new style of football, they know exactly where they'll be Oct. 19, the day after their final regular season game. The Rams will be sitting at home, waiting for August 2009.
"That will be frustrating," junior quarterback Cody Miles said. "It's hard to know you can't go to state, no matter what you do."
Bruner's worry extended even beyond that.
Soroco may be small, but it has some good athletes, guys who could play for teams that not only can, but plan on, making the playoffs this fall.
"Cody Miles, he's good enough to start for Hayden or Steamboat. We have several kids who could play for them," Bruner said. "Yeah, I was worried they might transfer."
Worry wasn't restricted to Bruner, however, nor was it restricted to the "stay in 11-man" side of the ledger.
It wasn't so much that Soroco entered last year's miserable football season without a hope of success. The Rams beat two junior varsity squads, and they might have had success against some regular teams, were it not for a spate of early season injuries.
Injuries are a way of life for small programs, though. When a big senior starter goes down, sometimes the only person there to replace him is a freshman so small he's practically drowning in his jersey.
"Last year was pretty hard to watch, because I had a ninth grader playing on the varsity level, first string," said Gena Hange, who's son Jordan Hange started Friday night when Soroco opened its season. "I was definitely in favor of (eight-man) from the beginning. We just want to see football played on an even field."
New numbers, same game
According to some of the top eight-man coaches in the state, Bruner is right - the different levels of football are similar. There are some small differences.
"The main difference is speed," Granada coach Manuel Gonzales said.
Gonzales has been coaching at Granada for 36 years, his school fluctuating in the past between eight-man and 11-man with the ebb and flow of enrollment. It is firmly entrenched at the eight-man level now, and Gonzalez regularly has Granada in the mix come playoff season.
"In 11-man, you can get away with having big linemen, but in eight-man, you like to have guards that can run a little more," he said. "You want to have more speed at all the positions. It's a faster game all around."
Eight-man football means something small to each position. It's often easier on defensive backs, as they don't have to worry about the sometimes-complex schemes of 11-man coverage.
Defensive ends need to worry about containing running backs more than sacking the quarterback and linebackers always have to be ready to drop into coverage.
Other things never change.
"Whether it's eight-man or 11-man, it's all about blocking and tackling," said John Barber, who has coached eight-man football at Merino in northeastern Colorado for 15 years. "There are a few differences, little nuances. In eight-man, a 130-pound kid who can run is deadly. Put him on an 11-man field, and he won't do nearly as well."
Barber guided Merino to a perfect season last year and its third championship in the past five years. He said once coaches get the hang of the eight-man, they easily can adapt offensive and defensive schemes designed for 11-man football.
In that regard, Soroco might be lucky. Bruner has coached at nearly every level of football possible, guiding six-, eight- and 11-man teams in addition to playing on an eight-man high school squad while growing up in Oklahoma.
"If they embrace the game at Soroco, with the athletes they have, they'll do very well," Barber said. "They'll be a team to reckon with."
First flight
So, is it all the same? It sure seemed that way late Friday night.
Soroco fans and players alike watched a sickeningly familiar scene. The opposing quarterback snapped the ball, took a step back and slowly sank to one knee, ensuring the final seconds would tick off the clock without the Rams getting another possession.
Something was different, though. Rather than sulk to the sideline and back to the locker room to ice bruises and wrap ankles, Soroco's players ran onto the field. They traded high-fives and let out loud whoops.
Someone set off a batch of fireworks late in the fourth quarter as victory approached.
The opposing quarterback took a knee, but did so not to be nice, but because he was tired of the maroon pummeling he and his teammates had endured throughout the night.
The horror story didn't happen. Miles and all the talented upperclassmen stayed to play in Oak Creek. Down a classification, Soroco truly was as strong and as deep Friday night as its opponents from North Park.
Soroco truly was as good at football.
"It's great," Miles said. "It was a good decision, because this is better than losing. We weren't going to have a chance to go to state, anyway, and here at least we can start building a winning tradition. In two years, hopefully Soroco will be in a league, and then we can win state.
"It's great. This is one of my best moments in high school - easily my best football moment."