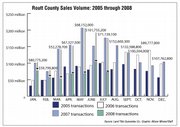 The dollar volume attributable to real estate transactions in Routt County last month was only 40 percent of dollar volume from the record-setting July 2007, and year-to-date numbers were half of what they were last year.
The local market saw $71.1 million in transactions in July, the lowest total since $60.2 million in July 2004, and it was down $100 million from last July. Year to date, Routt County has seen $501 million in sales compared with $1 billion a year ago, according to statistics gleaned from county records by Bruce Carta, of Land Title Guarantee Co.
Realtor Randall Hannaway, of Colorado Group Realty, summed up the state of the market this summer with one word: stagnation. Still, he's optimistic things will break loose.
"A big portion of our market is represented by second homes, and while they are appreciating in value, the owners don't need to sell. There are buyers out there," Hannaway said. "But they are looking for real bargains because that's what they are seeing in the cities where they live."
He likened the dance being performed by sellers and buyers this summer to a game of chicken.
"I'm starting to see both sides get more reasonable," he said. "Buyers are starting to realize, 'If I wait another six months, I'm not going to get a lot'" lower price.
Yet the year-to-date total is within a few points of July 2006, which was a record at the time. And three years of July transaction volume numbers tell another story.
Routt County chalked up a record $176 million in sales in July 2007 on 240 transactions compared with $102.8 million the year before on 280 transactions. Last month's $71 million was achieved with just 94 transactions, an average of $755,000 per transaction. The average sales price in 2006 was $367,000.
David Baldinger Jr., of Steamboat Village Brokers, said across-the-board averages in the broad Steamboat market are becoming increasingly misleading as the resort matures into a higher demographic. A few home sales this summer in the $5 million to $8 million range obscure all of the home sales in modest neighborhoods, including those in Stagecoach and Whistler Meadows.
Steamboat Realtors knew in July 2007 they were seeing unprecedented dollars flowing into the Yampa Valley.
Longtime Steamboat Realtor Ken Gold called it a frenzy for which he had no reference point. After cresting $1 billion annually for the first time in 2006, the Routt County market, had topped $1 billion through the first seven months of 2007.
That number included hundreds of millions in transactions that didn't come through the multiple listing service. Gold pointed out they also included one-time events represented by transactions that topped $25 million each.
They included $24.6 million for the undeveloped parcel known as the Steve and Mary Brown property west of the city limits; $57 million for the Sheraton Steamboat Resort and Rollingstone Ranch Golf Course; and $53.9 million for Ski Time Square and the Thunderhead Lodge redevelopment properties.
Also clouding the view of real estate activity here in 2007 and 2008 are more than $150 million in contracts written for luxury condominiums under construction at projects such as Trailhead Lodge, One Steamboat Place, Alpen Glow, Howelsen Place and Edgemont. They'll make the dollar volume for July 2009 and beyond look better, but the actual contracts will be two years old when they bear fruit.
"Pre-sales will play a bigger and bigger role in analyzing market trends," Baldinger said. "Any new projects in the future will have two-year (delivery) times."
Those projects have caused construction cranes to sprout up downtown and at the ski mountain. But single-family home starts totaled a modest nine through the end of June, and it's clear the slowdown in real estate transactions is translating to the construction industry. There have been new starts recently in Elkins Meadow and The Sanctuary, but building contractors are jockeying for their next jobs.
Pat Berka, of Colorado Professional Builders, is well under way with the Sackett home on Mont View Park off Mount Werner Road, and he is under contractor to build a spec duplex a little more than a mile away in Flat Tops View Village. Still, he said his business is down about 50 percent from what he had anticipated this summer.
A number of residential and commercial projects he expected to build this season have been put on hold, hopefully only until the spring of 2009, he said.
Berka has lined up a contract home at Steamboat Lake for this fall and is in talks for several more.
Hannaway said he's aware of prospective buyers who have been sitting on the sidelines for more than a year.
"Eventually they are going to engage," he said optimistically.
- To reach Tom Ross, call 871-4205
or e-mail tross@steamboatpilot.com
xa