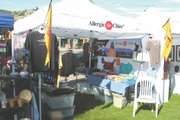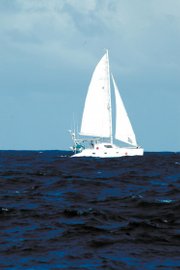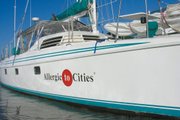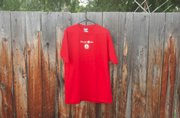 On the 'Net
allergictocities.com
Steamboat Springs — Rick Bear didn't come up with the Allergic to Cities concept, but he insisted it was a humdinger of an idea.
Matt Scharf, an artist and graphic designer who was working on Bear's advertising projects, came up with the idea more than 10 years ago. He and his brother were returning to Denver from a camping trip. As they neared the city, Scharf had to pull over because he was coughing and his eyes were watering, Bear said. The joke was born.
Scharf created a logo, and the brothers started selling Allergic to Cities hats. But Scharf grew tired of dealing with the business and cut it off. About three years ago, Rick and Suz Bear entered the picture.
"I said, 'You're stupid if you don't pursue it.' : I kept begging him over and over for a couple years," Rick Bear said. "He said, 'If you think it's such a good idea, you go do it.'"
The Bears bought the brand about three years ago, and they sell items including T-shirts, bags, water bottles, stickers and mugs.
They have expanded the brand with the help of the Duck Company, a Denver licensing firm the Bears started contracting with last fall. Customers now can buy shirts reading Allergic to Politics, Allergic to Democrats, Allergic to Republicans, Allergic to Obama and Allergic to McCain.
The Bears sold items at the Democratic National Convention last week in Denver, and Duck will sell them at the Republican National Convention this week in Minneapolis.
"We're equal opportunity offenders," joked Bear. He and Suz are longtime Steamboat Springs residents. Rick Bear has run a photography shop, led an advertising company and done woodworking in town.
Their brand also includes gear related to the environment, outdoor activities and boating, which the Bears love (enter the Allergic to Land logo). The most popular shirt, Bear said, says Allergic to Heels and includes a picture of flip-flops or hiking boots.
"That's the beauty of this silly line," Rick Bear said with a smile. "It has what they call in the industry 'legs.' There's so much room to grow. It's just wide open."
On their Web site, the couple invites people to discuss their own "allergies" on a blog. One of the site's images helps explain what Allergic to Cities is all about: "When stepping away is the only cure : get a doctorate in escapism." A photo of a manhole on a road fades to a serene image of nature.
The Bears, who returned from a nine-month sailing trip in July, sell the items at the Steamboat Springs Mainstreet Farmers Market. The Duck Company has helped them get products into 150 to 200 shops in the country. Stores can order localized products to sell as souvenirs.
Duck's employees also create "Allergic to" slogans and designs.
"They have fun doing it, coming up with ideas," Suz Bear said.
The Bears, who were married in 2003, have four adult daughters and three sons-in-law. Their children helped at the DNC last week, and their interest was piqued, the Bears said.
"They encouraged us," Rick Bear said. "Some of them were a little more skeptical about the potential, but they saw the excitement in our eyes."
The Bears said their profits have increased 300 percent from the first quarter to the second quarter this year. The business provides supplementary income - Suz Bear owns a maid service in town - but they think it might eventually support them.
"We've had great results," Rick Bear said. "It's amazing. We didn't know what to expect."
But the Duck Company was ready, he said. They rolled out items conservatively and started really selling in March.
"It's a very clever group of young people," Suz Bear said.
The business has spread into other parts of the couple's life. The Bears' 42-foot catamaran is called Allergic to Cities. They bought the craft by selling a home they remodeled in the Brooklyn neighborhood, where they live while they're in town.
Other boaters get a kick out of the name, Suz Bear said, adding that it inspires grins from people who understand.
"When you're going down the Intracoastal Waterway, you call on the radio to have the bridges raised, and they ask the name of your boat and where you hail from," Suz Bear said. "One of those bridge tenders - they're real rigid government people - we said 'Allergic to Cities.' She just started laughing."