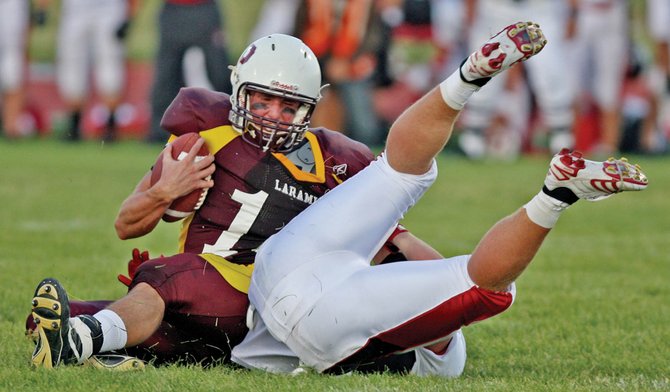 Steamboat gets defensive
Sailors topple Laramie Plainsmen, 21-14, in season opener
Saturday, August 30, 2008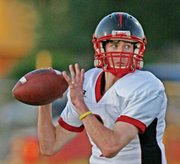 Game statistics
- First downs
Steamboat: 11
Laramie: 13
- Rushes-Yards
Steamboat: 25-162
Laramie: 52-134
- Comp-Att-Int
Steamboat: 6-19-3
Laramie: 2-10-0
- Yards Passing
Steamboat: 167
Laramie: 42
- Total Yards
Steamboat: 329
Laramie: 176
- Punts-Avg.
Steamboat: 3-38
Laramie: 4-35
- Fumbles-lost
Steamboat: 2-1
Laramie: 2-0
- Penalties-Yards
Steamboat: 8-90
Laramie: 3-25
Score by quarter
Steamboat: 14-07-00-00-21
Laramie: 00-08-06-00-14
Scoring summary
- First Quarter
S - 6:00, Alex Wood 46 pass from Austin Hinder. (Jasper Gantick kick).
S - 3:37, Hinder 77 run. (Gantick kick).
- Second Quarter
L - 3:51, Jon Sorenson 5 run. (Coleton Wilson run).
S - 1:57, Wood 64 pass from Hinder. (Gantick kick).
- Third Quarter
L - 2:30, Charles Swearingen 4 run. (Run fail).
- Fourth Quarter
None
Individual statistics
- Rushing
S - Hinder 7-84, 1 TD; Fraser Egan 9-24; Joe Dover 8-50; Charles Wood 1-4.
L - Sorenson 17-94, 1 TD; Swearingen 10-43, 1 TD; Coleton Wilson 11- (-57); Mike Lanich 12-14; Kolby Wilkison 1-17; Luke Knapton 1-9.
- Passing
S - Hinder 6-19-3, 167 yards, 2 TD.
L - Wilson 2-9-0, 42 yards. Knapton 0-1-0.
- Receiving
S - Wood 4-134, 2 TD; Cody Harris 2-33.
L - Tyler English 1-25; Marshall Fisher 1-17.
Laramie, Wyo. — With all the preseason chatter focusing on the offense, the Steamboat Springs High School football team may have found out more about the character of the team through its defense.
Although the offense showed explosive glimpses in Friday's 21-14 win against Laramie, Wyo., at Deti Stadium, it was the defense that won the game.
"They went out and won a football game," Steamboat coach Aaron Finch said. "When your defense needs to get it shut down and win a game, that's character. That makes you feel good about this football team."
The Plainsmen's two touchdowns came off Sailors turnovers that gave Laramie a short field to work with.
The first Laramie touchdown came when a botched exchange between Steamboat quarterback Austin Hinder and running back Joe Dover gave the Plainsmen the ball on the Sailors' 5-yard line. The second came when Hinder threw an interception, giving the ball to Laramie on the Steamboat 33-yard line.
The Sailors' defense was impressive. Steamboat limited Laramie to 176 yards on offense, 2-of-12 on third downs, 2-of-6 on fourth downs, and made the biggest plays of the game when it needed to.
Two of those stops came on Laramie's final possession with time running out. The Plainsmen had the ball inside the Sailors 20-yard line with under a minute to go when Steamboat defensive end Alex Wood had two consecutive sacks to end the game.
"We knew what they were going to run, and we knew what we were going to do," said Wood, who also had four catches for 134 yards and two touchdowns. "I knew the last play was a pass, so I just got off the ball. I was cramping, but I just got through with the intensity."
The close finish was in contrast to the game's start. The Sailors scored on their first two drives - one on a touchdown from Hinder to Wood and the other on a 77-yard run by Hinder - and outgained the Plainsmen 188 to minus-14 in the first quarter.
But then, Steamboat struggled to hold onto the ball.
Hinder, who hooked up with Wood again at the end of the second quarter on a 64-yard strike to give Steamboat a 21-8 halftime lead, finished the game with three interceptions.
Still, it was all about the defense Friday.
"It was getting excited about every play," nose guard and fullback Fraser Egan said. "That's what it took (Friday). Defense was my favorite part of the game."
Steamboat opens Western Slope League play at 7 p.m. Friday against Delta at Gardner Field.
- To reach Luke Graham, call 871-4229
or e-mail lgraham@steamboatpilot.com