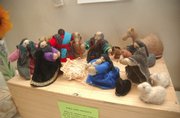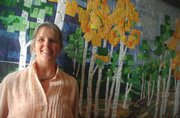 For more
¤ To contact Gale Loveitt about garment design and construction, custom fabric creations, or classes in topics including basic repairs, sewing machine work and pattern construction, call 846-4544. Loveitt keeps studio hours on Monday, Wednesday and Friday, as well as by appointment, on the second floor of the building that houses Lyon's Corner Drug.
Dressmaker Gale Loveitt doesn't remember how or why she started sewing, but it might have had something to do with an inadequate selection of clothing for the doll she played with as a 6-year-old.
Forty-eight years later, she hasn't stopped.
"I think really the key to why I love doing this so much probably just has to do with having the ability to take these few pieces of material and thread and turn them into beautiful garments that people want to wear around," she said.
Sitting in the showroom portion of her Gotta Loveitt studio, Loveitt has surrounded herself with a variety of projects. Custom-made clothing is draped over dress dummies that hang from the ceiling, collages of her children's art are framed on one wall, and a large fabric art landscape defines one side of the room.
"I do things like that, too," Loveitt said, motioning to the landscape. "I'm just trying to figure out how to create beauty in the world, and that's kind of what I do."
To generate income, Loveitt focuses her creativity on making custom dresses, crafting long wool coats and re-creating customers' favorite garments.
At some point, she'd like to have her original designs available for purchase, but that's a step Loveitt won't take until she gets some help sewing. That could be an underlying motivation for her plans to offer beginning sewing classes in part of her studio space, though most of Loveitt's drive to teach locals how to work with a needle and thread comes from a desire to share her skill with people who could use it.
"I believe there are a lot of folks who might want to know how to sew, so part of the new focus of this space here is to have a classroom where I can teach six to eight people at a time," she said of the room she rents above Lyon's Corner Drug. "That's one of my new things, is really wanting to help other people use what they do, so they can work to grow with it and get better and better."
For someone who can take on just about any project involving a needle and thread, sharing a love for creating garments and a knowledge for repairing them is an easy choice. And after years as a custom dressmaker and seamstress, Loveitt can't think of anything she'd rather be doing.
"I just can't think of a time I've ever not wanted to sew," she said. "Plus, it gives me an excuse to gather up fabrics wherever I go."