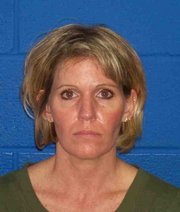 Terri Dawn Moody Fatka was sentenced to eight years in prison Wednesday for her role in embezzling more than $1 million from Alpine Bank and its account holders, a crime prosecutor Carl Stahl called "probably the largest theft that this county has ever seen."
Fatka, 41, pleaded guilty June 23 to four counts each of felony theft and forgery for conspiring to steal the money from account holders at the Steamboat Springs branch of Alpine Bank. Fatka's sentence includes eight years in prison followed by five years of mandatory parole. She also will have to pay an undefined amount of restitution.
Her alleged co-conspirator, Pamela Jean Williams, 42, entered not guilty pleas Aug. 13 and will stand trial next year.
Fatka's cooperation with the investigation was a mitigating factor in her sentencing, Judge Shelley Hill said. In its pre-sentence investigation, the Probation Department recommended Fatka be sentenced to 12 years in prison.
In interviews with investigators in June, Fatka said she and Williams handpicked people who kept poor track of their accounts and stole the funds a little at a time, using forged advice of charge forms. They spent the money on lavish Las Vegas vacations, cars and jewelry, among other expenses.
"They were surrounded by money in their jobs at the bank, and they made the conscious and willing decision to break that trust," Stahl said in court Wednesday. "They made it hundreds of times, almost every day, for several years."
Alpine Bank President Adonna Allen described the financial and emotional hardship Fatka's actions have placed on the bank and its customers. The bank reimbursed its six affected account holders, spent more than 100 hours on the ensuing internal investigation and suffered immeasurable damage to its reputation in the community, Allen said.
Of the 14 coworkers at Alpine Bank when Williams and Fatka were arrested in February, only six remain, Allen said.
"We can't go to Safeway or Wal-Mart without answering questions from the public," Allen said. "Beyond just damaging the victims, they damaged the bank."
For the victims, the effects went far beyond the amount of money stolen, said attorney Elizabeth Wittemyer, who represents a local man who had funds embezzled from his construction company's business account. The thefts resulted in years of financial hardship for the company, causing her client to lose business and vendors, and occasionally, to be unable to pay his workers, she said.
"I am not being overly dramatic in saying that children went hungry and housing was lost while Ms. Fatka was in Vegas," Wittemyer said.
Fatka collected herself long enough to apologize to former co-workers and local bank officials who were present in the courtroom at her sentencing.
"I would like to say that I am so very sorry, from the bottom of my heart. I knew it was wrong, and I've hurt all these people," Fatka said.
Erick Knaus, Fatka's attorney, originally requested that Wednesday's sentencing be postponed because of a dispute in the restitution figure cited in the Probation Department's pre-sentence investigation. Hill denied his request to postpone sentencing, although the final restitution figure will be determined at a later date.
The alleged total amount embezzled by Williams and Fatka has been estimated as high as $1.4 million, but certainly is well more than $1 million, Stahl said. Alpine Bank tallies the total at more than $1.3 million, Allen said.
Williams' trial, set to last for seven days, will begin at 8:30 a.m. Feb. 2., 2009, in Routt County District Court.