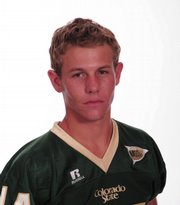 Steamboat Springs — For as long as Ben DeLine can remember, he's imagined himself on the field kicking the game-winning field goal against the University of Colorado.
The dreams persisted through the years, whether it was in front of the makeshift goal posts his father, Steve, erected at the family's ranch when Ben could barely walk, or as recently as last year, when he sat at Invesco Field at Mile High as a Steamboat Springs High School senior.
DeLine, a freshman kicker at Colorado State University with less than a month under his belt as a Division I football player, will get that chance at 5:30 p.m. Sunday when Colorado and Colorado State meet in the annual Rocky Mountain Showdown.
DeLine became the team's No. 1 kicker when Colorado State senior Jason Smith broke his right arm during a scrimmage Sunday.
"I hate to see that happen to Jason," DeLine said Tuesday. "But it's an opportunity for me to take advantage of. I can't sit here and be worried about it."
DeLine said he had a feeling when Smith came up lame after recovering a bad snap that something wasn't right. After talking to the trainer, DeLine said he knew that dream of kicking against Colorado would come true sooner than he may have expected.
And judging by the past five meetings between the in-state rivals, DeLine's right leg could be the difference.
Colorado holds a slight 141-129 point advantage the past five seasons, with two of the five games being decided on a last-second kick.
"I probably won't be able to describe it," DeLine said of walking out of the tunnel Sunday. "I would have never thought watching last year's game that I'd be the starting kicker this year. It just blows my mind."
Although Ben said he's sure he'll have some nerves, he has been trying to treat the week just like any other.
One advantage he has had is turning to his father for advice.
Steve kicked for the Rams from 1984 to 1986 and still is second on Colorado State's career field goal list.
"He's very solid," said Steve, who made his college debut at Mississippi State. "He's confident in a good way, not a cocky way. He knows it's a big game, but it's still a game."
With more than 70,000 fans expected Sunday, it easily will be the largest crowd Ben DeLine has played in front of.
Still, if it comes down to a 40-yarder to win the game, DeLine said he'll relish the opportunity.
"That's like a dream right there. That's something every kicker dreams about. It's definitely what I dream about," DeLine said. "A full 100 percent I would want to kick that ball."
- To reach Luke Graham, call 871-4229 or e-mail lgraham@steamboatpilot.com