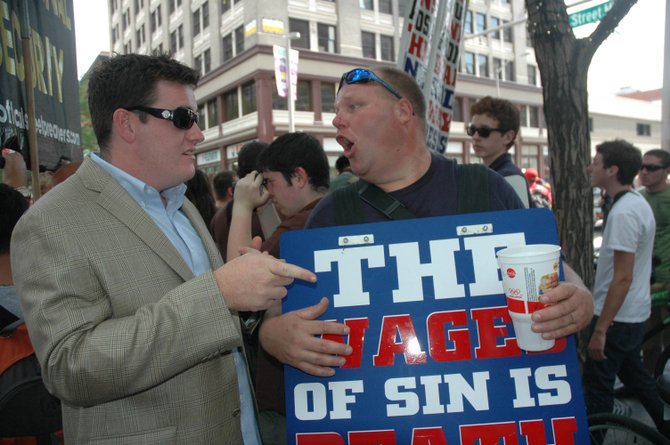 DNC fills Denver with excitement
DNC 2008
Stay tuned to www.steamboatpilot.com throughout the week for extended coverage of the Democratic National Convention.
Pilot & Today City Editor Mike Lawrence and reporter Brandon Gee are covering the convention from Denver. They will report on issues pertinent to Northwest Colorado, touch base with Colorado Democratic leaders and chronicle Denver's convention buzz in articles, photos and audio interviews.
Photo Gallery
DNC 2008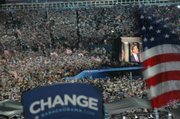 The city of Denver transformed for the 2008 Democratic National Convention, Aug. 25-28, as people of all backgrounds and intentions filled the city with colorful political passion. See images here.
DNC by the numbers
75,000: People who will witness Sen. Obama's acceptance speech at Invesco Field
26,000: Convention volunteers
17,000: Hotel rooms for delegates and official convention guests in the Denver metro area
15,000: Local, national and international journalists at the convention
5,000: Seats removed from the Pepsi Center to make room for the stage, podium and camera stands
4,440: Credentialed delegates as of Aug. 12
3,300: Miles of fiber installed to connect telecommunications throughout the Pepsi Center
134: Countries represented by media organizations at the convention
100: Years since Denver hosted its first Democratic National Convention
91: Age of the oldest delegate
17: Age of the youngest delegate
Source: Democratic National Convention Committee
Denver — The 2008 Democratic National Convention hadn't even started, and Lacey Ely received a hard lesson on the zoo that Denver has become.
"I really didn't plan it out good enough," said Ely, who expected a hassle-free weekend trip to Denver with two other Steamboat Springs residents. "In reality, I barely got a hotel room, and I spent way too much money."
Ely and her friends hope to score tickets to a Rage Against the Machine concert Wednesday that is part of protest group Tent State University's schedule of events. The three drove down Saturday and visited five or six hotels before finding a room. On Sunday, Ely also dealt with traffic headaches and a few scares from rowdy protestors before eventually managing to enter a free lottery for the tickets. But the stresses weren't enough to keep Ely from catching the same infectious enthusiasm sweeping through the city this week.
"It's an important time in our history," Ely said. "To go to the DNC and see Rage, I would go again two more times to sign up."
That same enthusiasm, in a more hostile form, also was on display on the 16th Street Mall on Monday afternoon. That's where dozens of police officers in full riot gear surrounded a contentious encounter between a group of men calling themselves Open Air Preachers and those offended by their anti-gay views and signs.
"You, as a homosexual, are an abomination before God," Ruben Israel, of Los Angeles, shouted at a gay man he was arguing with.
Molly Grady confronted another of the men, Timmy Schultheis. While acknowledging the sidewalk preachers' First Amendment rights, Grady couldn't help but be frustrated.
"I just find these messages so hypocritical," said Grady, a national Barack Obama delegate from Iowa. "It just upsets me because people come to them with respectful opinions, and they totally disrespect them."
Schultheis denied that the group was being disrespectful or hateful.
"We're here to do one thing and one thing only: ask people to consider God," said Schultheis, of New Jersey. "There is a higher issue than the political issue, and that's the moral issue."
The officers that ringed the area were members of an omnipresent police force assembled in Denver this week. Officers from Aurora, Colorado Springs and other communities across the state are augmenting Denver's force. They can be seen traveling in large packs via foot, bike, horseback or automobile, sometimes in full riot or SWAT team gear, checking flower pots and newspaper boxes for bombs and flashing peace signs off the back of a Hummer.
Other Denver natives reveled in the injection of energy to their city, such as a man at the Rock Bottom Brewery who promised convention goers, "I'll vote for Obama if you buy me a beer."
Willie Theaker, 17, and Lucy Piccochi, 23, drove all the way from Connecticut to "have their voices heard" in Denver this week. They spent Sunday night in the "Freedom Cage," the sarcastic moniker protestors have applied to the city's barricaded free speech/protest zone outside the Pepsi Center.
"We're just tired of the way things are being done in this country," Piccochi said. "All talk and no action. We're here taking responsibility for our lives in this country."