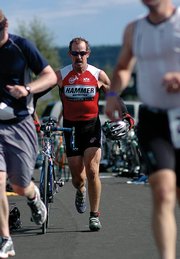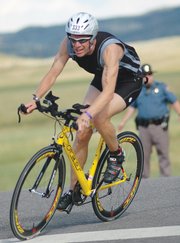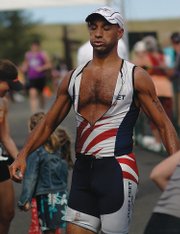 Triathlon results
Men's triathlon
1. Matt Smith, Denver, 1:29:14
2. Billy Edwards, Boulder, 1:29:38
3. Sean O'Neill, Centennial, 1:31:55
16. Mark Satkiewicz, Steamboat Springs, 1:41:02
Women's triathlon
1. Lauren Ivison, Boulder, 1:42:43
2. Sharon Good, Castle Rock, 1:44:01
3. Emily Carroll, Highlands Ranch, 1:47:46
9. Jennifer Kerr, Steamboat Springs, 1:53:53
They weren't the most famous people there, and they certainly weren't the fastest, their finish going unnoticed by the announcer at Sunday morning's Steamboat Springs Triathlon.
But that did little to ease the excitement, as Sarah Kostin jumped into Brynna Vogt's arms at the triathon finish line near Lake Catamount, officially bringing to an end Team Wounded Knee's first dance with the three-stage race.
"We did it! We did it!" Vogt shouted.
Accomplishment could be found everywhere Sunday on Catamount's grassy shores. Some were thrilled to finish, while others beamed with record-setting times. Organizers were satisfied to have another jam-packed triathlon in the books.
"It was a great race. Everyone had a great time," triathlon director Barry Siff said. "It was a great day for this. There was cloud cover early in the race, and they enjoyed that, then the sun came out later."
Perhaps a cloudy morning helped, or maybe it was a swimming course shortened slightly when the morning's breeze blew the racecourse buoys in closer than they were supposed to be.
No matter the reason, people flew across the more than 24 miles of the race, and overall men's winner Matt Smith set the course record. He beat last year's best time by more than four minutes, finishing Sunday in 1 hour, 29 minutes and 14 seconds, and edged out professional triathlete Billy Edwards by 24 seconds.
"I've been coming up here for four years for this, so it was great to win it," said Smith, from Denver. "I was fourth out of the water, tied after the bike and then was able to run it in after that. (Edwards) was coming on strong and was running 20 seconds a mile faster than I was. If there had been another 100 yards of course, I might have been in trouble."
Sean O'Neill was third on the men's side in 1:31:55.
The women's race also went to a Steamboat Triathlon regular, Lauren Ivison, of Boulder, winning the event for her third try.
Formerly a competitive swimmer, Ivison grabbed the lead early and held on through the biking and running segments. Sunday's race started in six stages separated by five minutes, so she wasn't ever sure where she sat overall until she finished.
However, she found a simple way around that problem.
"I just made sure no one passed me," she said.
Ivison's 1:42:43 time proved enough to hold off second-place finisher Sharon Good, 1:44:01, and third-place finisher Emily Carroll, 1:47:46.
"I had a good race and a strong swim," Ivison said. "It was a little cold on the bike, but it felt really good, and I had a lot better run this year. I was really happy with my time."
The 20-mile bike course led the pack into Steamboat to the base of Howelsen Hill before returning to the lake. The four-mile running section sent competitors out and back along Routt County Road 18.
It made for a great diversion for some, such as Washington D.C. Mayor Adrian Fenty, who took part in the race while in Colorado for the Democratic National Convention and an education conference.
"This is about my fifth year doing triathlons. This was a great one," said Fenty, who has been sidelined recently after a bad bicycle accident. "This was great - a really good way for me to get back into it. It was a tough course, but everything's perfect up here."
Others used the race for rehab, as well.
Kostin is going through rehabilitation after blowing out a knee playing soccer, while Vogt has suffered from chronic knee problems for years. Together, the Steamboat residents managed to master all three disciplines.
Vogt first took on the water, which was no easy task.
"It was really hard. My lungs stopped working, it was so cold, then I kept getting kicked in the face," she said.
Kostin took the 20-mile bike ride before handing back off to Vogt to run the final leg.
"It was awesome out there," Kostin said. "The whole course was beautiful. We live here, but it was still great."
"Now we're all motivated to find some more triathlons," Vogt added. "Next time, we'll both do them all on our own."