For more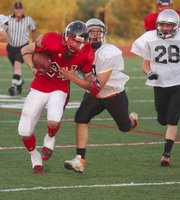 2008 fall schedule
Steamboat Springs football
Friday: at Laramie, Wyo., 7 p.m.
Sept. 5: vs. Delta, 7 p.m.
Sept. 12: at Montezuma-Cortez, 7 p.m.
Sept. 19: vs. Eagle Valley, 7 p.m.
Sept. 25: at Palisade, 7 p.m.
Oct. 3: at Rifle, 7 p.m.
Oct. 10: vs. Battle Mountain, 7 p.m.
Oct. 17: at Moffat County, 7 p.m.
Oct. 24: at Buena Vista, 7 p.m.
Oct. 31: vs. Glenwood Springs
Steamboat Springs — Austin Hinder is living a quarterback's dream. The Steamboat Springs High School junior and signal caller can look left or right before the snap and realize he's in pretty good hands.
To one side, he'll likely see pass catchers Jasper Gantick and Eric Bonner. To the other side, he could see Cody Harris and Alex Wood. All four are accomplished receivers and viable threats to score on any given play.
In the backfield, he's got juniors Joe Dover and Fraser Egan, or Steamboat's version of thunder and lightning.
The explosive Dover can score any time he touches the ball. Egan, at 225 pounds, also has the vision, physical style and field awareness of a potential 1,000-yard rusher.
Add to that senior Nelson Brassell as wide receiver, a 6-foot-6-inch target with great hands, and Hinder realizes the potential this Steamboat team has.
"It is heaven back there," Hinder said of his position under center. "It's great having all those guys to throw to. We have great weapons, but every team knows that. It's going to be fun to watch. Our offense is getting there, but once we get into a rhythm, watch out."
Steamboat certainly has the offensive weapons to compete in a loaded Western Slope League.
Back are defending league champions Glenwood Springs and the always-loaded Palisade Bulldogs. Glenwood returns a core group of seniors that led the Demons to an undefeated regular season. Palisade might have the most dynamic backfield in the league back from a team that was one point away from playing for a state championship.
Still, the feeling in the Steamboat locker room is that the Sailors have enough talent to compete and win the league.
"We're shooting for a league championship, then the playoffs," said Wood, a senior and Steamboat's top returning pass catcher from a year ago. "But the playoffs are secondary right now because we know we can hang with Palisade. We know we can hang with Glenwood. But we want to be in the top three for sure."
They all count
Getting into the top three spots in the league will be paramount for Steamboat. Because of changes to the playoff format, only the top three teams from the Western Slope are guaranteed playoff spots. The rest are left up to wild-card positions.
Whereas a year ago, non-league games were somewhat like preseason games, this year they all count, starting with Friday's game at Laramie, Wyo.
"It's critical now," Steamboat coach Aaron Finch said of the nonleague games. "Often times, they had no bearing on how successful you were. Now every game is weighted, and you have to finish in the top three."
Although Steamboat might have more offensive potential than the team has had during any time in Finch's tenure, the season might come down to how well the team's undersized-but-athletic defense plays.
The Sailors still will run out of the 3-5 base formation and still have people swarming to the ball, but Steamboat doesn't have that one playmaker on defense that they've had in years past - not yet, at least.
"We're athletic enough, we just need to get that attitude," Finch said. "It's hard. We don't have a Westin Cofer, Lane Shipley, Mac Marsh or somebody like that. We have the athletic ability. We just need that attitude."
That attitude will be huge as Steamboat progresses through the season. It starts with Friday's showdown with Laramie - essentially a Class 4A team. After that, Steamboat jumps right into its league schedule.
The team doesn't play Palisade (Week 5) or Glenwood (Week 10) until later in the season. Still, with the playoff format, the league depth and the ability this team has, Finch said the Sailors need to start putting it all together Friday.
"It's up to them to decide," Finch said. "Athletically, there's a lot of potential. But there's a lot more to this game than just fast-twitch muscles. We have to decide, as a program, how much we're willing to sacrifice to improve. We have to decide as a team and a coaching staff if we're willing to make the sacrifice it takes to be a great football team."