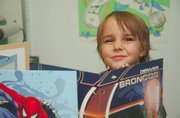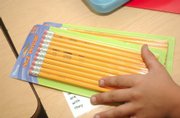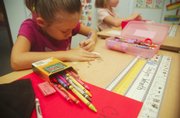 Stocking up on supplies
Sample school supply list for a Routt County first-grader (store brands, or lowest available price):
- 3 broad-tipped whiteboard markers: 99 cents each
- 24 No. 2 pencils: $3.99 for a pack of 72
- 1 eraser: $1.49 for a pack of three
- 4 large glue sticks: $2.79 each
- 1 large box facial tissues: $1.99
- 1 pair of scissors: $1.49
- 1 box of markers: 99 cents
- 1 box of 24 crayons: 99 cents
- 1 set of watercolors: $1.99
- 3 pocket folders: 99 cents each
- 1 composition book: $1.28 for a pack of two
- 1 pencil box: $2.99
- 1 set of colored pencils: 99 cents
Total (excluding gym shoes, which are on most lists): $34.30, plus tax
In Richel Eskridge's first-grade class at South Routt Elementary School, students carefully pulled design-filled pocket folders out of their desks to show them off.
While the school's supply list requires each student bring only three folders with them on the first day of school, it's hard to resist the characters available at many stores.
Wade Forston set up a fort made of Incredible Hulk folders, while Miranda Hammer went through her supplies one by one, explaining that she chose striped and polka-dotted patterns "because they're really cute," and that she picked out a Hannah Montana folder because Miranda, like most other girls younger than 12, loves Hannah Montana.
School supplies have never been especially exciting, but the dozen or so items required each year always offer a bevy of options - from simple store-brand staples to elaborate, big-name versions of the same.
Leslie Hunt, who Friday afternoon was shopping for her first-grader, Maggi Congdon, and her third-grader, Julia Congdon, said she surveyed what she had at home before heading to Staples to get the rest of her supplies.
"I'm looking to save money. If it's cheap and it works, I'll buy it," Hunt said, adding that the most reasonable, affordable items aren't always the easiest to find in any store.
"If you keep looking around, you'll find something cheaper than the first thing you see. It takes longer, but I don't mind spending more time," Hunt said, guessing she would spend $80. She beat that estimate and spent only $50.
That proves especially true in the area of pens, pencils, highlighters and markers, where prices can range from 99 cents for a dozen ballpoint pens to more than $5 for one smoother-writing ink pen. As one passing shopper observed, "I have never seen so many choices in pens. It's like going to the cereal aisle with a 2-year-old."
Supply lists have stayed roughly the same for at least 15 years, with the basics - pencils, paper, notebooks - augmented by classroom supplies and the odd cold weather necessity, such as lip balm.
For Karen Kutska, who teaches first through third grades in a Montessori classroom at Strawberry Park Elementary School, the community list grows to include the basics, with students bringing scissors or rulers to leave for the classroom at the end of the year.
"For my class, about half the materials they bring are community items, so they don't have their names on them. Pencils and colored pencils and glue and all that stuff, we use those as a community," Kutska said, adding that it's crucial for a teacher to check over their supply list to make sure all the necessities are there.
"I learned that the hard way my first year, when I ended up with no pencils," she said.