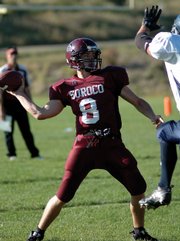 2008 fall schedule
Soroco football
Friday: vs. North Park
Sept. 6: vs. Longmont Christian
Sept. 13: at Faith Baptist
Sept. 20: vs. Nucla
Oct. 4: at Dove Creek
Oct. 11: at Silver State Baptist
Oct. 18: at Norwood
Steamboat Springs — At first glance, the Soroco High School football team's Friday night scrimmage seemed to matter even less than an NFL preseason game.
Vail Christian traveled to Oak Creek for the game, but the scoreboard wasn't turned on, downs and yardages were ignored and coaches stood on the field for every play.
Still, it was an important day for the program, coach David Bruner said. The game marked eight-man football's arrival at Soroco, and the Rams greeted it with as much of a win as they possibly could. Soroco scored once while holding Vail out of the end zone for the entire scrimmage.
"That was good. It's just great to get out and play against another team," Bruner said. "We haven't worked on defense at all, so it was great to see our guys do that. They know what we want from them because of last year, and that's a big help."
Friday's game didn't count in the upcoming season's standings, but Bruner was able to take plenty away from the contest. The traits that will define Soroco football in 2008 were obvious.
Junior Cody Miles led the way for the Rams as quarterback. Miles is returning for this third year under center and was accurate with his passes and in charge of the team throughout the action.
He scored the only touchdown of the scrimmage with a 20-yard charge, plowing through a defender as he reached the goal line.
Miles tossed an interception, but he angrily ran the defender down and delivered a hard blast, pushing the defensive back out of bounds.
"He's been playing since he was a freshman, and he's grown up a lot," Bruner said. "I expect a lot of things out of him. He's grown up so much from last year. He's really worked hard."
Miles' main offensive weapons Friday were junior Alex Estes and senior Mike Davis. Davis, a fullback, got free for several long runs and could break out this fall to be one of the Rams' most consistent threats.
"He isn't usually our running back, but he's looking really good," Miles said.
Soroco returns five other seniors in addition to Davis: Ryan Tibbits, Bobby Mason, Jephery Donaldson, Robert Anderson and Dylan Delamater.
Their leadership will be key, Bruner said, as will the contributions from the freshman and sophomore classes.
Sophomore Jacob Hange provided the highlight of the evening when he caught a diving 40-yard pass from Miles.
Soroco moved this season to the new, eight-man classification and doing so carries plenty of consequences. The Rams will play on a smaller field - they will continue to play 100 yards in length, but on a field only 40 yards wide.
Far more grave for Soroco is that the team won't be able to qualify for postseason play for two years, meaning no matter how successful the Rams are at their new style of ball, their season will be over with an Oct. 18 trip to Norwood.
Miles said that's tough to accept, though it did little to calm his enthusiasm for the new season. Soroco's first regular season game is at 7 p.m. Friday in North Park.
"I think we'll be great," Miles said. "There are only a couple teams I think that could give us a run, from what I've heard, and I think we'll hold it together."