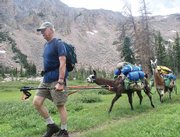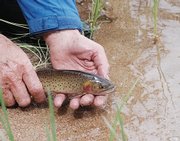 Getting to the trailhead
The route to the Rainbow Lake Trailhead is confusing the first time out, but motorists using the official Routt National Forest map shouldn't experience difficulty.
Begin by driving on Rabbit Ears Pass and turning left off U.S. Highway 40 onto Colorado Highway 14, which swoops through the wide-open ranch country of North Park. Mount Zirkel Wilderness Area will be on your left as you drive north.
After about 18 miles on Colo. 14, watch for the sign announcing the crossroads of Hebron and make a left onto Jackson County 24. Follow it to a right turn onto Jackson County 5.
You'll feel like you are in the middle of nowhere as you follow Jackson 5 (get it?) for about 7 miles. But it eventually will deliver you to a left turn onto Jackson County Road 22, which soon will put you on a bumpy road to the trailhead.
For anglers who already are familiar with the shortcut via Jackson 18 to Delaney Buttes lakes, take a left on Jackson 5, cross the Roaring Fork and quickly pick up Jackson 22 for a much more direct route to the trailhead.
Lighten your load safely
Llamas are a great way to take some creature comforts into the wilderness while lightening the load on one's own shoulders. Be forewarned, however, of the natural human tendency to go a little overboard with the creature comforts.
The three humans on our trip rented a pair of llamas, along with packsaddles, panniers, lead ropes and tethers from Ann Copeland of Hayden. The llamas go for $50 a day each, and you'll be taking at least two - the animals grow insecure without companionship.
Each llama can pack no more than 75 pounds. You'll use a hand scale at the trailhead to weigh each of four panniers to ensure a properly balanced load hangs from the saddle.
Keeping in mind that you'll want to lash some tents, sleeping pads and satellite TV receivers on top of the panniers, you might pre-weigh your gear in trash bags on your home bathroom scale.
Shoot for something like 22 or 23 pounds per bag, and you'll have ample room beneath the 75-pound maximum. But don't plan on bringing cases of beer unless you plan to add an extra llama.
Avoid nuzzling your llama in the face like you might a dog, and everything should be fine. Alternately, breathe directly in the llama's nostrils and see what happens.
Steamboat Springs — It's only natural that hikers in Steamboat Springs approach the Mount Zirkel Wilderness Area from the west side of the Continental Divide. It's only 13 miles to the Continental Divide Trail on Buffalo Pass from downtown Steamboat.
And there's a tendency for adventurers in the Yampa Valley to gravitate north to Seedhouse Road and the network of trailheads at Slavonia that lead to wilderness lakes such as Three Island, Dome, Wolverine, Beaver and Mica.
However, when you find yourself wearying from the spectacular, but familiar, beauty of the Gilpin/Gold loop, you always can turn to North Park and the east side of the Divide.
From the Seven Lakes Trailhead in the north, near Big Creek Lake, to the Lake Katherine Trailhead and the Rainbow Lake Trailhead further south, there is new country to discover.
The Rainbow Lake Trail quickly delivers backcountry travelers to a region dotted with more tarns and perennial snow banks than one often finds on the Steamboat side of the Park Range.
Don't be misled - hikers from Colorado's Front Range, as well as Midwesterners, know all about the Rainbow Lake Trail. But by August, when mosquitoes and tourists have begun to subside, it's a great option for Steamboaters.
And if the trailhead appears crowded with vehicles, you can be confident that many are day hikers who won't go beyond Rainbow Lake.
The full length of the trail, stretching to its junction with the Continental Divide Trail north of Mount Ethel, is 8.2 miles, but it's just more than 3 miles to Rainbow Lake.
There is good fishing in Rainbow, particularly on the backside near the inlet, but the best waterfalls, wildflowers, views of 11,924-foot Mount Ethel and the sweetest campsites all lie beyond, at Slide and Upper Slide lakes.
On a recent trip, we were afforded luxuries that backpackers don't typically enjoy, because we brought two rented male llamas, Jumpy and Calico. Each animal was capable of carrying 75 pounds on their packsaddles, which meant we didn't have to carry our tents, stoves or even many clothes.
In addition, they carried a small cooler packed with frozen steaks and boneless pork chops. They didn't even complain when we managed to squeeze six cans of Fat Tire amber ale into their cargo panniers.
Your first llama trek is similar to your first overnight river trip or your first backcountry hut trip in one way - it's a good thing if you tag along with someone who has experience.
Llamas are generally docile animals that can become quite stubborn when they decide something is not quite right. Weighing upwards of 400 pounds, they can shut your hike down simply by planting their feet and arching their necks.
However, people who know how to use the right mix of tenderness and firmness can also coax them along.
If a llama stops and refuses to cross a creek, for example, it might be time to recheck the load and make sure it is well balanced. Once you reach camp, the animals are remarkably easy to care for and not prone to bolting for home like some other four-legged animals might.
Treat your llamas well, and you'll have a rewarding trip to Slide Lake and the Continental Divide beyond.