Photo Gallery
The Last Stand: Part 5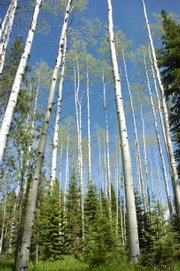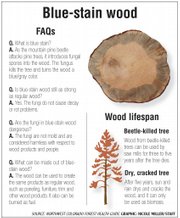 When Charlie Cammer built his wife, Barb, a bookcase out of blue-stain wood eight years ago, he couldn't have been prepared for her response.
"Can you make me a house like that?" Cammer said his wife asked. "And here we are."
Where we are is inside a first-floor bedroom of Cammer's house in the Badger Meadows subdivision of North Routt County. The room is darkening with the day. Cammer sits on the edge of a crisply made bed, staring reminiscently across the room at the bookcase, remembering his wife's request and the trees that used to populate the forest beyond the window at his back.
When Cammer built the bookcase in 2000, he had only first begun to notice lodgepole pine trees falling prey to the mountain pine beetle, leaving a tell-tale blue-stain fungus on the inside of their trunks. As shocking as Barb's request for a house must have been, Cammer was even more staggered when, within a few hundred feet, the beetle provided him with enough dead, blue-stain trees to fulfill it.
"She got her wish," Cammer said.
And more. From coffee tables to bar tops, Cammer's house is full of furniture with the distinct, marbled look of a beetle-killed tree. Cammer since has built a barn, and he plans to build a second house on an adjacent lot - all out of dead trees. The Cammers' current house, too large for the empty-nesters, is for sale.
Losing a tree, let alone hundreds or thousands, is hard. Walking from the blue-stain barn to the blue-stain house, Cammer remembers one of his favorite trees and points to its stump near the edge of his driveway.
"It was the biggest, ugliest tree you ever wanted to see," Cammer says tenderly. "I saved the bottom of that tree, and we'll use it again. They're all part of the next house."
For the Cammers, reusing the wood has softened the blow of their loss. In the construction of the barn, Cammer and his three boys worked through what he considers an important part of their grieving process.
"They're still a part of us," Cammer said of the trees. "It kind of helps us remember what it was like when we first got here. : The wood's dead, and you're just utilizing that resource and giving it a home."
Walking across his property, Cammer is too easily excited to dwell very long on the sadness of lost trees. He notes his new views and points out wild roses and baby firs that are growing up in areas previously shaded by lodgepole pines. Some lodgepoles are growing back too, and while treading carefully through a field to find some, he stops short in amazement.
"Look at that," he said, staring straight down at three young lodgepoles barely taller than the grass. "I can't believe I set my foot in the middle of three trees. The rebirth has begun."
The next forest
While touring the forest near the Willow Creek Pass subdivision in North Routt, John Twitchell makes a similar observation.
"Look at all the cones on the ground," said Twitchell, a Steamboat Springs-based forester with the Colorado State Forest Service. "The next forest is here, it's just waiting to come. : The forest isn't going away. It's going to grow."
Not everyone has had as much time to cope as Cammer. Many Routt County residents are only beginning to lose their trees. Like Cammer, Twitchell described the experience as similar to the grieving process, and he admits he's still working through it himself.
"It's emotional, whether it's a single tree in the front yard or a stand of trees," Twitchell said. "Almost every landowner I deal with : this has a punch-to-the-stomach type of effect. There's usually a little bit of anger, but, eventually, they do get to acceptance."
After 24 years in her Strawberry Park home, Peggy Berglund has lost all of her pine trees to the mountain pine beetle.
"I'm sad, but it's Mother Nature at work," Berglund said. "I'll replant something - probably not pine."
Thick concentrations of same-aged lodgepole pine trees proved unhealthy for pine forests across the Rocky Mountain West. Combined with the right climatic conditions, namely drought, these stressed forests provided what Andy Cadenhead called a virtually unlimited supply of food and habitat for the mountain pine beetle. The result was a perfect breeding ground for an expansion of the pest that has claimed 1.5 million acres in Colorado and likely will kill the majority of Colorado's large-diameter lodgepole pine trees within the next three to five years.
"What we're seeing is an intensity of the epidemic that has not been seen since the area was settled," said Cadenhead, a Steamboat Springs-based supervisory forester with the U.S. Forest Service.
Although many property owners, like Berglund, are skittish of lodgepole pine after the pain of the mountain pine beetle epidemic, Tara Mehall said it is an unnecessary apprehension. She recommends landowners plant lodgepole pine, noting that it is one of Colorado's fastest-growing native species. A young pine takes about five years to get established, Mehall said, then grows about a foot a year.
"It's going to eat all the mature pine and move on," Mehall, a Steamboat Springs-based forester with the Colorado State Forest Service, said about the mountain pine beetle. "Lodgepole pine is here for a reason. It's a native species."
Along with aspen, it's also a seral species, meaning it starts growing in natural succession after forest disturbances such as fire, logging or, in this case, insect epidemic.
"They're a little bit competitors," Twitchell said about aspen and lodgepole pine.
Many foresters are predicting aspen trees to come on stronger than lodgepole pine in the bark beetle's wake. Twitchell said aspen stands have very large root systems that often are lying dormant beneath the lodgepole pine stands they competed with after previous disturbances.
"There's pretty general thinking that aspen will be successful," Twitchell said.
According to Wayne Shepherd, a retired U.S. Forest Service silviculturist, lodgepole also may replace itself, but only in areas where there is enough sunlight. In mixed stands where other tall trees are surviving as the pines fall, lodgepole could diminish or disappear.
Mehall predicts that, eventually, Colorado will have a forest that doesn't look too different from the current one, but that will have significantly more age-class and species diversity.
"People need to understand that the next forest is already starting to grow," Mehall said. "As foresters and working for the state, we're really trying to prepare for the next forest. We're pretty much beyond the beetle. We're not going to stop the beetle."
'A teachable moment'
After the loss of Colorado's pine forests, Twitchell hopes environmentalists and others will realize there are benefits to forest management from more than a commodity standpoint. Twitchell said the forest has intrinsic social, even spiritual, values that also happen to be economic values.
"Managing that takes on more than just making boards," Twitchell said. "You can have the foresight to manage for that value."
Also noting Colorado's forests are "a billion-dollar backdrop for tourism," Twitchell said he hopes the public will be more accepting of forest management after witnessing the beetle's devastation.
"This is a teachable moment," he said.
Tied to that, Twitchell said, is a need for the U.S., a net importer of lumber from far-off places such as Siberia, to create markets for local wood. In Colorado, Twitchell said work needs to be done to correct misperceptions of inferiority when it comes to blue-stain wood. The use of wood ties up the carbon held in trees and helps regenerate the forest, Twitchell said.
"It's probably very environmental for us to look at ways we can use local wood," Twitchell said. "What a nice symmetry that could be."
Cadenhead thinks the changes in public sentiment Twitchell hopes for are indeed happening, and he sees an opportunity to prevent a similar catastrophe in the future.
Cadenhead said tremendous amounts of fire in the mid-1800s reset the clock on many of the West's forests. Forest managers didn't start intervening in these forests until a century later, which he said was too late to prevent a tremendous number of acres from becoming highly susceptible to the mountain pine beetle.
"That's the loaded gun," Cadenhead said, "and the trigger is the drought they had."
The pine beetle epidemic is similarly resetting the forest, but Cadenhead said foresters now have an opportunity to intervene earlier to promote age-class and species diversity.
In Canada, officials are learning to pay more attention to climate change in their forest management decisions. In British Columbia, increasing temperatures have eliminated for more than 20 years the kind of severe cold snaps needed to wipe out a beetle epidemic that has claimed 33.3 million acres of lodgepole pine forests.
"It's made us more acutely aware of the risks associated with climate change," said Jim Snetsinger, British Columbia's chief forester. "You have to keep a close eye on what's going on in your forest."
Snetsinger cited trees moving into new climes as climate changes. In response, Snetsinger said foresters are looking at how to ensure "ecosystem resilience" by facilitating the movement of trees north and upward in elevation.
"What we want to try and do is anticipate where trees should go," Snetsinger said. "In this particular instance, the mountain pine beetle is going to do what it's going to do, and we're trying to do everything we can to get healthy, green forests back. : While it is a natural catastrophe in something of epic proportions, the forest will recover."
No regrets
John Anarella is more likely to shrug his shoulders than shed a tear at the mountain pine beetle epidemic decimating forests across Colorado and the Rocky Mountain West.
Anarella, a Yampa-based wilderness ranger with the U.S. Forest Service, is content to watch the forest evolve and grow as unimpeded as the graying hair that hangs in a braided ponytail down the length of his back.
"I'm kind of the preservationist," Anarella said. "I'm not the forester. I'm the curator of the museum. It's my job to show people in 500 years what forests look like without human intervention."
Leaning over a bridge railing near Sheriff Reservoir in Rio Blanco County, Anarella points to a thick, green forest below the Flat Tops Wilderness Area. The spruce beetle devastated the area half a century ago, and one of its victims hangs over a spillway beneath the bridge.
"There's a forest that was red 50 years ago," Anarella said. "Doesn't look so horrible, does it?"
A mix of green trees, shrubs and wildflowers surround the water just outside the wilderness area.
"That's what you hope for is this mosaic," Anarella said. "So that when something comes in, it doesn't wipe it all out."
Anarella's intimate relationship with Mother Nature is evidenced by the way he calls her "Mom." While foresters and others scramble to respond to and mitigate the impacts of the pine beetle epidemic, this New York native and former musician takes a broader view.
"I have a luxury job where whatever the forest is doing is just OK," Anarella said.
Fireweed, a purple wildflower that thrives after disturbances, glows brilliantly in the meadows. Anarella's ponytail hangs from a Colorado Rockies hat and sways across a green Yampa Ranger District T-shirt as he walks up Sand Creek Trail toward the wilderness area.
He notes aspen groves that likely flourished after the spruce beetle and 20- to 30-year-old fir and spruce trees that rise above, and sometimes directly out of, rotting trees on the forest floor.
"There's your new forest right over the old forest," Anarella said.
Determining when the new forests will arrive after the mountain pine beetle is a tricky task. While saplings already are sprouting among dead trees and places more advanced in their pine losses, such as Grand County, are starting to see the aspen boom foresters have predicted, Twitchell said most people won't notice the new forest until trees start to rise above their heads.
As they leave standing dead trees in their wake, insect epidemics make for a more prolonged resetting of the forest than immediate stand-replacing events such as fire or logging. But regeneration in the pine forests may be quicker than in the spruce forests Anarella toured. Lodgepole pines have shorter life cycles and shallower roots than spruce trees. While a huge green forest below Pyramid Peak in the Flat Tops still is interspersed with silver bands from standing spruce trees 50 years dead, Cadenhead said most dead pine trees will fall in the next 15 years.
"It kind of depends on what happens in those stands," Twitchell said. "Natural, undisturbed regeneration will be delayed a little bit. If there's a disturbance like fire or logging, then that next forest : might get kind of a jump on things."
Left alone, Twitchell said, the regeneration could take 20 to 30 years.
"It is kind of complex," Twitchell said. "It's not going to be the same everywhere. It's going to take longer than a fire. But removing the dead trees will give the forest a jump."
That's exactly what Cammer has done, but not necessarily with an eye on 20 to 30 years out. Standing in front of his house, watching him giddily move from the spot where three baby lodgepoles surrounded his foot to a rapidly growing group of aspens, it's clear Cammer is more than happy with the present.
"I'm still OK with all these changes," Cammer said. "I'm still thrilled to death to be here. It's not like I'm living out on the prairie. It's OK. I'm not regretting moving here. I'm not regretting cutting trees down. We're just working with nature. And we're still living the dream."