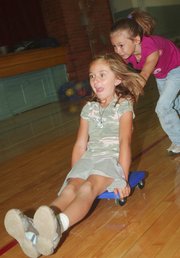 Yampa — Third-grader Ben Kelley had just a couple of pieces of advice Thursday for younger students starting out their school lives: "Be good. And don't pick your nose."
Sitting with fellow South Routt Elementary School third-graders Axel Garcia and Lance Bryant, Ben spent part of the afternoon on his first day back drawing pictures of dragons in his new composition book.
While they carefully illustrated mythical lizards that had been cut in half by knights and monsters that could bore caves in the ground with their special bursts of acidic flames, Ben and Lance explained that they're excited for the third grade, partially because of the challenge they think it will bring.
"I'm happy to be in the third grade, because I've been training for the third grade, because of starting CSAPs and things like that," Lance said, adding that he hasn't had any trouble making friends so far in his second year at the Yampa elementary school.
A little earlier in the day, and on the other side of the school, physical education teacher Artie Weber led Richel Eskridge's first-grade class through a series of activities, including scooter races and a game called "shark attack," where student "sharks" crawled under a parachute in search of victims to pull in with them.
"They've been great. They like the new lights in the gym, and we've got new heating. It's like a new beginning," Weber said.
A week ago, the halls and classrooms at South Routt Elementary School were covered with the ductwork for a new geothermal heating system, part of a $4.1 million energy efficiency project for South Routt School District facilities. But as Eskridge's first-graders filed into her classroom for an afternoon snack, there was no trace of the exposed ceiling and stacked furniture that had characterized the school's classrooms seven days before students filled them.
After Eskridge finished reading the class a story called "Don't Eat the Teacher," her students shared their excitement for being back in the school routine.
"It's really fun in school, because we get to do lots of fun stuff, (like) coloring and playing," said first-grader Anna Long, talking in between bites of Corn Pops. "It's really fun, and you get to do lots more."
Steamboat Springs students head back to school Monday. The first day of school in Hayden and at the North Routt Community Charter School in Clark is Sept. 2.
To reach Margaret Hair, call 871-4204
or e-mail mhair@steamboatpilot.com.