Past Event
Friday, September 5, 2008, 5 p.m. to 8 p.m.
K. Saari Gallery, 837 Lincoln Ave., Steamboat, CO
Not available / Free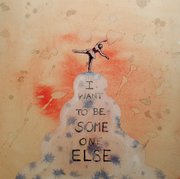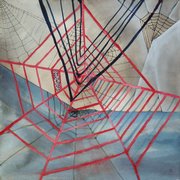 Steamboat Springs — Painter Susan Hover Oehme gets a little nervous every time the U.S. Postal Service ends up with one of her works.
The mail carrier plays an indirect role in the fate of Oehme's pieces for the series "F Words," a collaboration with longtime friend, colleague and New York City resident Jane Moffitt. For the project, Oehme or Moffitt selects a word that starts with the letter "F" and lays down as much painting, drawing or collage as she sees fit. The work then gets shipped across the country to the other collaborator, and changes hands as many times as it needs.
"It's kind of a little game that we play, going back and forth," Oehme said, standing in the print shop at River House Editions, with about half the works of "F Words" spread out on a drafting table in front of her. "And sometimes I obliterate her idea, and we have to go back and fix it."
The works are defined by both artists' styles, as well as by their collaborative and nomadic nature. In a piece titled "Fragile," Moffitt collaged two flowers into the top corners of a fiery orange background. Oehme drew on an egg-shaped object hanging from a tangled black line and decided it was finished. Other works, including one titled "Fauna," have more of a back-and-forth.
"From my take on it, sometimes the things that she would do were so cutesy," Oehme said, explaining what Moffitt had painted an image of Bambi into the piece.
"I couldn't handle the cuteness of it, so I covered over it with this weird structure that didn't have anything to do with fauna, and then she put him back in later," she said, adding that Bambi's later appearance - perched atop Oehme's "weird structure" with a quote bubble saying, "I'm back" - actually improved the piece.
The project is easily 18 years in the making, Oehme said, but there have been definite lulls in production. Among them, Oehme moved to Steamboat Springs in 1996 to become master printer at River House Editions, and she now has a 6-year-old son. She started working in earnest again about two years ago, after building a studio onto her house, where she tries to work at least a couple of nights a week and one day out of the weekend.
With "F Words," Oehme has trouble remembering the exact role she played in some of the earlier pieces. It's easier for her to remember the difficulty of letting some of them go.
"That was very, very hard, to leave it unfinished - especially if you did something you really, really like," she said. Although some of the pieces date back almost two decades and span a variety of abstract styles and shapes, Oehme said they have a timeless quality.
"I think there's a sense of continuity to it, even though it's kind of crazy."