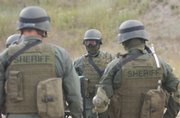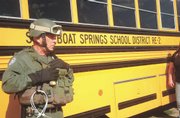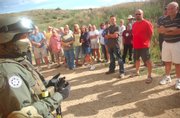 Steamboat Springs — This wasn't about mountains of new school supplies or what to wear on the first day of class.
Wednesday's back-to-school preparations for area school bus drivers included SWAT team members brandishing air rifles and launching "flashbang" diversionary devices at their bus, as dozens of drivers from all three Routt County school districts posed as students during a mock hostile school bus-takeover at the Routt County Rifle Club range.
The joint training exercise, coordinated by the Routt County Sheriff's Office and Steamboat Springs School District Transportation Director Ed Dingledine, was designed to show Steamboat, Hayden and South Routt school drivers exactly what would happen if a hostage situation arose aboard their bus.
"It's going to be loud, and it's going to be fast - you're going to be thinking, 'What the heck?' and we'll already be through the bus," Sgt. Miles DeYoung said, briefing the drivers on what to expect during the exercise.
"We're not here to scare or intimidate you but to bring a sense of reality to the issue," Undersheriff David Bustos added.
The drivers, captive in their seats, jumped as smoke grenades exploded outside their windows, and they obediently followed the SWAT team's orders of "Heads down! Hands up!" as SWAT team members swept the bus.
"It's pandemonium for the kids," said Richard "Festus" Hagins, of Hayden.
In a post-exercise briefing, drivers called the experience eye-opening and shared some school bus safety concerns of their own - including limited or nonexistent radio and cell phone communication on stretches of their routes.
"The day to prepare for something like this is not the day it happens," Sheriff's Office Investigator Ken Klinger said.
Unfortunately, Colorado has developed a reputation for aberrant behavior and school violence, and though no one has orchestrated an attack on a school bus, terrorist groups have made plans for such a takeover, Klinger said.
Given the large geographic size of Routt County, during the past year the Routt County Sheriff's Office has ensured that its entire patrol division become SWAT-certified so that everyone is prepared to respond, Klinger said.
After leaving the range, the bus drivers returned to more typical in-service day activities, including a briefing from the Colorado Department of Education and a refreshing on rules and regulations, Dingledine said.
Classes begin today for South Routt students. Steamboat Springs students will head back to school Monday, and the first day of school in Hayden is Sept. 2.