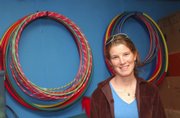 Steamboat Springs — For teacher Shannon Carlin, moving to Steamboat Springs was a challenge. She made it to town and found housing through a friend of a friend, but she now is faced with the high cost of living.
"It's a little bit intimidating moving to a mountain town that you know is going to be the next Vail or Aspen," said Carlin, a new physical education teacher at Soda Creek Elementary.
Steamboat Springs School District Superintendent Shalee Cunningham said helping provide affordable housing is one way the district would like to aid new teachers in their transition to the district. In an effort to meet that need, Cunningham will meet with Stan Jensen, president of the Colorado Mountain College system, on Friday to discuss the potential of building affordable housing for new teachers.
"We don't seem to have a problem recruiting teachers - the issue is retaining them," Cunningham said. "I certainly think that if we can find some reasonably-priced housing, it would help the teachers."
The preliminary idea is to use land the district owns - potentially a 9.2-acre site at Whistler Park - and a partnership with local organizations to provide affordable housing units.
"It's a challenge," Jensen said. "We're looking at a number of different things to help our employees, and certainly our incoming employees and faculty, to overcome challenges - especially the housing issue."
Jensen said the same problem is found at the college's other mountain-town campuses, such as Aspen and Roaring Forks in Glenwood Springs.
CMC provides loans to help employees make down payments on houses and to cover rental costs. The school district does not have any incentives or assistance in place, Cunningham said.
Several new teachers at Steamboat Springs Middle School agreed housing would go a long way toward making them feel more comfortable.
"People find this is a dream place to be, but after the first season, they don't have any savings," said Jenn Spurlock, a math and science teacher at the middle school. "If Steamboat doesn't learn to value low-paying, community-type positions, they're going to lose people."
Middle school resource teacher Erin Dargis said money was not why she moved to Steamboat, nor why she became a teacher, but she would like more financial security.
"As a teacher, you clearly know money is not the reason to take the job. It would be the same anywhere you go," she said. "(But) I can't think in the long term here."
Moving to Steamboat also must be measured in more than affordable housing or salary, said middle school Spanish teacher Braden Wilson.
"It's really more of a lifestyle choice," he said. Wilson said he enjoys taking his mountain bike out after work and living so close to a great ski mountain.
"The fantasy of it is our reason for moving here," he said.
Mindy Mulliken, a math and science teacher at the high school, said she would appreciate assistance in housing and would consider it a reason to move to a job, but she was not surprised by Steamboat's prices.
"I knew what I was getting into," she said. "I'm seeing how it goes. : You can make it work anywhere, if you want to."
- To reach Zach Fridell, call 871-4208
or e-mail zfridell@steamboatpilot.com