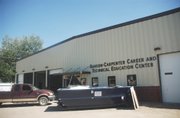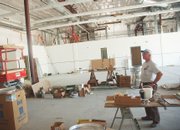 Steamboat Springs — The sounds of banging, building and repairing are set to echo soon in Hayden High School's Babson-Carpenter Career and Technical Education Center.
The $1.3 million center will be ready to operate by the start of school, Sept. 2, Kevin Kleckler said. Kleckler, who leads the vocational technology program for the Hayden district, said people who are interested can enroll now through the next couple of weeks.
"It's really coming along," he said. "I'm ecstatic about how things are going."
Crews were chugging away in the building east of the main campus Tuesday afternoon, working in the warm air among ladders and tools.
Mike Walden was soldering the water main pipe in part of the building. When he was a student of Kleckler's, he refined his welding skills in the current 2,800-square-foot shop. The expansion will add about 8,400 square feet.
"I think it'll be great for all the kids," Walden said of the new center. "It's going to be like triple the size. : They can do more projects; there will just be a lot more area to work."
Walden said he graduated from Hayden High School in 1999 and now works as a plumber. He said he learned from Kleckler in class and when the former athletic director was football coach.
"He's great," Walden said.
Classes at the new vocational center will be open to students across the region, Kleckler has said.
Initial classes will include welding, auto body and automotive skills. The school also will offer a Thursday evening TIG welding class through a partnership with Colorado Northwestern Community College. TIG welding is a form of precision welding, and the 6 to 10 p.m. welding certification course is open to adults.
Kleckler said anyone interested in taking courses could call him at home at 276-3079, adding that classes are filling up.
The vocational center eventually will offer architecture, drafting and sports mechanic courses, he said. It will include an area for auto bodywork, an area for auto mechanics, a welding room, two classrooms, offices, and space for drafting and architecture work.
The center will be equipped to serve about 200 students this fall, Kleckler said. He said the project was on budget but that he plans to continue to improve it.
"We're going to try to do some other stuff," he said. "It's going to be a little bit more than that, but for right now, anyways, we've got to finish up with some other things like tile flooring and that kind of stuff."
The school aims to host a grand opening for the center in October. He said he was looking forward to starting classes there.
"It'll be ready to go," Kleckler pledged. "We're ready."