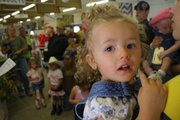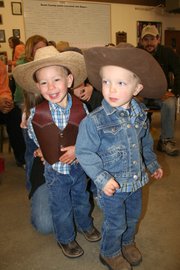 Steamboat Springs — The overall sales at the Routt County Junior Livestock Sale were down slightly this year, but T-Lane Mazzola walked away smiling Saturday with an extra $1,000 in his pocket.
T-Lane, 13, showed lambs Rambo and Nitro at the fair and sold one for $1,200, leaving him with plenty of profits, which he said he will use for next year's animals.
The sale included 122 animals this year, down by six from last year's total. The Saturday sale grossed $250,422, less than last year's $270,000.
Jay Whaley, of the Routt County Extension Office, said all of the animals sold for much more than market price - sometimes quadruple what they normally would fetch.
"I think it's a great sale: It's pretty phenomenal," Whaley said. "These kids are thankful, and they should be thankful to the community for what they did."
For example, Whaley said, an average pig would fetch $125 to $150 on the market, but swine were sold at an average of $1,887 each during the sale. Lambs averaged $1,385, and steers averaged $3,536.
"The scholarship steer sold for $4,000. The market is only $1,100 for this animal," Whaley said.
Whaley said a 4-H fundraising effort for Tyler Johnson, a Steamboat Springs youth who lost both feet and part of the fingers of his right hand to amputation after a recent illness, also raised a large amount of money, which had not been totaled as of Sunday afternoon.
Many competitors donated a portion of their earnings to help Tyler's family pay medical bills.
A silent auction of a lamb also was held to raise money for the Johnson family. The animal first was sold for $900, but the seller donated the lamb again and it was resold for $500, raising a total of $1,400.
Cooing to a win
The fair on Sunday also had a Pretty Baby Contest, presided over by fair superintendent Billie Vreeman.
More than 20 children strutted, smiled and preened to compete in the 10 divisions, which included best smile, best feet and most likely to be a cowboy or cowgirl.
Some contestants had extra help from family members - such as Madison Thomas, 3, who was tickled by cousin Lane Moon all the way to a best-smile win.
Exhibitors
A total of 1,212 entrants, ages 2 to 90, displayed their wares throughout the Exhibit Hall at the fairgrounds. That's 80 more than last year, according to organizers.
Ruby Forster won the Helen Sherrod Home Artist award for her numerous displays. Forster entered more than 50 exhibits in the fair and won several grand champion ribbons for her crafting efforts.
Troy Allen won the Superintendent's Award for his giant "Rusty" horse sculpture displayed outside the hall. Made of twisted metal and horseshoes, the sculpture stands more than 10 feet tall.
- To reach Zach Fridell, call 871-4208
or e-mail zfridell@steamboatpilot.com