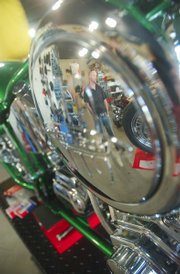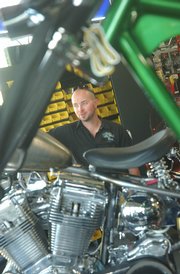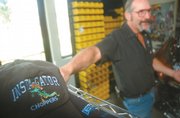 On the 'Net
www.insta-gator-choppers.com
Location: 1880 Loggers Lane, Units E & F, Steamboat Springs, CO 80487
Call: 870-9525
Scott Singer makes cabinets, fixes boats and RVs and teaches people to fly helicopters.
Now, he also plans to sell choppers. The jack-of-all-trades has been building motorcycles for 30 years and is launching Insta-Gator Choppers on Loggers Lane in western Steamboat Springs.
Singer has built a few sample bikes. The vehicles sparkle near the front window of his shop, which also serves as a base of operations for all of his other businesses. He often works on bikes after business hours, into the wee hours of the morning.
"He'll work more in a day than most people work in a week," said Paul Worster, Singer's fellow bike builder at the shop.
Worster and Singer have been in Steamboat for about 10 years. Worster said he got the job with Singer earlier this year, after he wandered into the shop.
Building a bike takes about a week, though sending the bikes out for custom paint work adds a week - or several, Worster said. The pair orders parts and plans to build each bike to fit the customer. That often involves modifying and refitting pieces, sometimes raising or lowering the handlebars and moving the foot pegs.
"It's not as easy as they make it look on TV," Worster said.
The bikes for sale at Insta-Gators now - two identical soft-tailed bikes, a hard-tailed "rust" bike and a shiny nickel hard-tailed bike - cost about $25,000 to $60,000, Worster said.
They showed off some of the rides at the Sturgis Rally in South Dakota this month and said they are close to getting their manufacturer's license.
"We're hoping to get our name out there, drive up business and have some fun," Worster said. He added that he loves building bikes because "it beats hanging out at the bar."
Singer and Worster talked like a couple of guys with chopper-building doctorates, as they hovered around the bikes in their shop next to Cook Chevrolet, explaining intricacies of lighting and wiring. Singer designed the bikes the pair built.
The soft-tailed bikes offer a less rigid ride because of the suspension and the setup of the back tire. The hard-tailed bikes don't have that same flexibility, Singer said. Insta-Gator Choppers hopes to work with the riders to create what they want.
"If I build a bike for a guy who's a handy guy, I want him to come in at night and work on the bike," Singer said.
Bikers who work on their own vehicles will truly know them, he said.
"To me, that's really important," Singer said. "If you're going to buy custom anything : you need to know about it, how to troubleshoot it, how to get home."
He said he plans to ride with customers to make sure they're using their bikes properly and safely.
The bikes will also include a year warranty, he said, which won't be voided if the biker edges above the speed limit.
"We're old-school riders," Singer said. "We like to ride hard."
He does plan, however, to give those bikers a list of parts to check if they plan to ride faster. That will help ensure their safety, he said.
Insta-Gator also will modify bikes if riders bring those in, Worster said.
Building a brand
Singer has used the Insta-Gator name for a couple of decades.
It started in Florida, when he built a monster truck. It
was the tallest one in the country, Singer said, and he needed a name for it. Because he was raising alligators at the time and was "always into (stuff)," his girlfriend suggested the Insta-Gator.
The label, a dancing alligator wearing a cowboy hat and chewing saw grass, was born.
Since then, he's done a laundry list of jobs. He still works in cabinet making, flooring, RV and boat repairs and other fields. He has five children and a wife, Hillary.
"Most people do one or two things, and they're satisfied," Singer said. "I'm never satisfied."
He said he prefers to stay in the background but decided it was time to seek out some potential bikers. Singer has confidence in his ventures.
"I believe in myself, and as long as I know I can do it, I'll push the limits," Singer said. "I'll step up to the edge of the ladder : because I know I can get down."
- To reach Blythe Terrell, call 871-4234
or e-mail bterrell@steamboatpilot.com