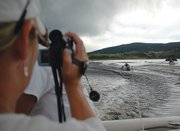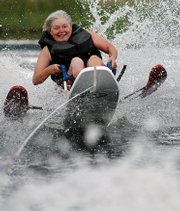 Steamboat Springs — Some say today's newspaper is lining for tomorrow's pet cage, but 6-year-old Kyle Taulman put the plastic bag from last week's Steamboat Pilot & Today to a slightly better use.
With an ample helping of duct tape, it formed the final barrier for Kyle's foot and gave his mom, Julie Taulman, enough reassurance to allow him to hit the water as he wanted to.
Kyle, a Steamboat Springs resident, has been in a wheelchair and partially paralyzed since he was 2 years old, a tumor on his spine rendering everything below his belly button motionless. Tuesday and Wednesday's Behind the Boat water skiing and wakeboarding camp at Bald Eagle Lake gave the excitable Kyle something to look forward to - something that put him in motion as he never had been.
Taking his turn behind a ski boat, Kyle strapped into an outrigger wakeboard and flew, swinging back and forth, high over the wake. His grin might have been visible from outer space - it was at least easy to spot from the boat and through the viewfinder of the camera glued to his mother's eye.
"Did you see how high I got?" Kyle asked breathlessly once he was back on shore and in his wheelchair. "I didn't know if I was going to land that jump."
He landed it fine, and he said the skiing was the best part of the week for him.
His mother didn't disagree as she watched him roam the shores of Bald Eagle Lake and play with new friends, young and old.
"This is so great," Taulman said. She was talking about more than just the volunteers who helped make the carefree day possible for more than a dozen people with disabilities.
"It's just fabulous. We've loved every minute of the last two days," she said. "I'm so excited for him to get to be around other people with disabilities. Everyone has a great attitude, and it's great for him."
Access Anything and Adaptive Adventures put on the Behind the Boat camp. It returned to Steamboat on Tuesday, Wednesday and Thursday for the third consecutive year, and again it was all smiles from those who took part. Wednesday featured 13 people taking their turns behind a pair of boats on Bald Eagle Lake.
For Steamboat Springs resident Pat Williamson, the day was a long time coming. She waited a year, actually, since she first had learned to ride an outrigger wakeboard at the same event last year.
She lost her right leg below the knee after complications from a 2004 car wreck on Colorado Highway 131.
Although she said she felt scared when she first got into the water last year, she was more at ease Wednesday as the boat started to pull, and she quickly popped up and began swinging side-to-side as her hair blew in the wind and across her face.
"It's still a little scary," she said, "but, as soon as I got the feel of it again, I was able to relax and just have fun."
High spirits
The camp featured two days at Bald Eagle Lake before packing up Thursday for a rafting trip on the Colorado River.
For Joy Rondeau, the two days in Steamboat meant a little bit of daredevil fun. Born with cerebral palsy, she stays plenty busy and hopes to make the U.S. wheelchair rugby team in the future.
On Wednesday, she had a more immediate goal: to jump all the way across the wake on her adaptive wakeboard, basically a wakeboard with a seat.
She easily slipped in and out of the wake but always came up just short of her goal or shot a little too aggressively, ending with a spectacular wipeout.
"You're going to be sore tomorrow," hollered Matt Schallmoser, a camp volunteer riding in the boat.
"I'm sore right now," Ron-deau said. "Especially my face."
That didn't do much to dampen her spirits. After deciding to take a break from her jumping quest, she spent the rest of the afternoon in the boat soaking up the sun and trading stories and jokes with other campers.
The camp mostly attracted older people with disabilities, but Julie Taulman couldn't get over what it meant for her son.
"This is great," she said again. "It just brings a lot of joy to Kyle. It's a new thing we found we can do in Steamboat, and we loved it."
- To reach Joel Reichenberger, call 871-4253 or e-mail jreichenberger@steamboatpilot.com