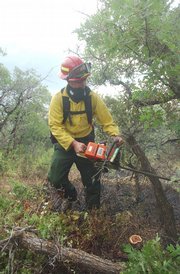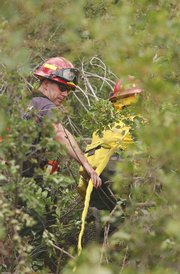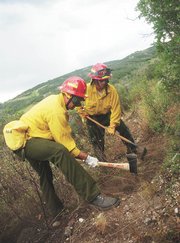 South Routt — A wildland fire burning in thick oak brush spread to within a couple hundred feet of two homes southwest of Steamboat Springs on Thursday afternoon.
Steamboat Springs Fire Rescue firefighters were dispatched to the one-acre "41" fire at 2:45 p.m. Thursday. The cause of the fire was unknown Thursday evening, but smoldering heat from a recent lightning strike was a possibility.
Aided by steady winds, the fire grew to about 2 acres on a hillside between Routt County Road 41 and Routt County Road 41A, on private land about a quarter mile past the Hilton Gulch Schoolhouse.
In order to reach the fire, firefighters had to use chainsaws to cut through the thick oak brush. The flames were suppressed with water pumped from a Steamboat brush truck parked at the base of the hill on C.R. 41.
Chuck Vale, Routt County's director of emergency management, said firefighters ex-pected to have the fire contained by Thursday evening. Responders eventually included an engine crew from the Bureau of Land Management and the U.S. Forest Service.
The fire's containment was a relief to Hal Chase, whose hilltop home was within a couple hundred feet of the fire.
"I'm very impressed the way they got to it so fast," Chase said of the fire-fighting effort.
The region has seen an unexpectedly quiet wildfire season this summer. Thursday's fire was the biggest so far.
"All of the fire community is relieved that we haven't had a lot of wildfires, but we're still not done (with the season)," Vale said.
With the right weather patterns, the wildfire season could continue through September, he said.
- To reach Matt Stensland, call 871-4247
or e-mail mstensland@steamboatpilot.com