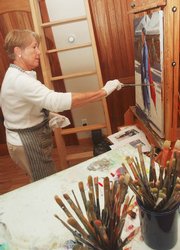 Past Event
Friday, August 22, 2008, 5 p.m. to 7 p.m.
Depot Art Center, 1001 13th St., Steamboat Springs
Not available / Free - $25
Standing on her front porch, in front of a flower-arrangement-shaped metal sculpture her brother made from scraps and horseshoes, Sandra Sherrod states the obvious:
"Art is just a part of my life."
In her Wyatt Way home, Sherrod houses works from her decades as a visual artist, bits of furniture and sculpture her friends have made throughout the years, and a vast personal collection arranged on her walls in coordination with the bright colors she's chosen for them.
In her upstairs studio, Sherrod keeps several projects going at one time: on an easel there's a painting, on a table there are bits of jewelry and stacks of personalized cards, and in the corner there's a pile of materials that will one day make their way into collages.
"To live in the midst of art, that helps to create it," Sherrod said.
On Aug. 23, Sherrod's home studio will be one of 31 stops on the ninth annual Artists' Studio Tour. The fundraiser for the Steamboat Springs Arts Council showcases the workspaces of 38 artists in Steamboat's downtown and mountain areas.
Everyone likes to see an artist work, and every artist works differently, said plein air painter Jean Perry, sitting in her sunbathed home studio on Apres Ski Way. Perry, who said she has painted since she was 5 years old, prefers to let natural light pour into her upstairs studio through big windows. Like Sherrod, Perry tries to work every day, and she is happy to work from home, after painting in studios found in everything, including a greenhouse, a rented barn and her son's bedroom when he left for school.
"It's very important to have your space and not have to clean up, to just leave it and walk back into it the next morning," Perry said, adding that she owes much of her confidence to the arts council.
"They have done so much for me through the years, recognizing me as an artist before I recognized myself as an artist," Perry said.
The tour benefits the arts council's volunteer docent program and is a chance to introduce a growing downtown artist population to the public, event organizer Holly Nelson said.
"I think a lot of people are excited to see how artists do their thing," Nelson said. "It's educational and obviously fun to go see where an artist works and how they work."