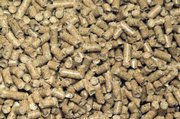 Oak Creek and Milner are on the cutting edge of a new energy frontier.
The two small Routt County communities have characteristics, including their size, that make them better suited to take advantage of the state's mountain pine beetle epidemic in ways that may not make sense for larger communities.
Earlier this summer, Community Energy Systems President Brett Ken Cairn announced that he is in talks with the Milner Landfill and the adjacent More Lumber sawmill about the feasibility of building an "eco-industrial park" on the site.
The envisioned Milner Energy Park would take waste from one operation and use it as a resource for another. Wood waste from the mill would be combined with municipal waste from the landfill to fuel a biomass power plant at the hub of the park. The primary waste product of the power plant - heat - would be used to heat a dry kiln building proprietors Billy Oerding and Mike Miller hope to construct at the More Lumber sawmill, which works exclusively with beetle-kill wood harvested on private land.
"It's moving toward total utilization of materials," said Ken Cairn, who also is performing a feasibility study of a biomass electricity facility in Walden for Mountain Parks Electric.
Ken Cairn put the cost of a quarter-megawatt facility at $1 million and said it could be built in two years. Xcel Energy's coal-powered Hayden Station produces 446 megawatts of electricity.
Ken Cairn expects rural electric co-ops such as Yampa Valley Electric Association to be supportive of such facilities because of state-mandated benchmarks for the percentage of their electricity that must come from renewable sources.
Ken Cairn said total-utilization facilities are the only way to turn wood into electricity with any amount of economic viability.
"It's the least valuable thing you could do with wood," Ken Cairn said of electricity generation. "We need to find ways to reduce the cost of the feed stock and improve the efficiency of the utilization. I would assert that you can't go out and harvest trees for energy alone. : I don't think it's sustainable."
Ken Cairn said the most appropriate use for wood is heat. In Oak Creek, residents are taking a serious look at becoming the first biomass-fueled municipality in the nation. Mark Mathis, of Kremmling wood-pellet mill Confluence Energy, said the economics work because of Oak Creek's size, its lack of paved streets that would need to be torn out to install water lines, a plethora of cheap fuel provided by the mountain pine beetle epidemic to heat those lines, and the fact that the town relies on expensive propane for heat.
"It's eating their lunch," Mathis said of propane. "Why not use a perfectly good resource at your feet?"
Wood-fired heating systems have proved successful on smaller scales. The South Routt School District and the National Renewable Energy Laboratory in Golden will soon put such systems to the test, and officials with Boulder County Parks and Open Space swear by their system.
Boulder County uses wood waste from its thinning operations to heat a five-building complex. In a worst-case scenario, the system should pay for itself in 20 years; with current natural gas prices, it will do so in seven, Boulder County officials said.
At NREL, mechanical engineer Chris Gaul said a "renewable fuel heat plant" will warm a 400,000-square-foot laboratory and cut natural gas use by 80 percent. Gaul said wood fuel is $2.50 per million BTUs, while natural gas currently costs $11 per million BTUs. The project estimates for the heat plant assumed natural gas would cost just $8 per million BTUs.