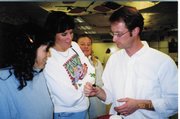 Steamboat Springs — Teachers can expect to act like deer and dress up in bearskins as they simulate a bear attack during the Wild About Wildlife teacher workshop Wednesday and Thursday.
The program, one of many Project WILD classes taught by Elaine Sturges of the Colorado Division of Wildlife, gives teachers a stockpile of hands-on activities to use with students of all ages.
Steamboat Springs High School biology teacher Charlie Leech has worked with Sturges on several programs, including a previous Project WILD course and a "buddy" program pairing high school and elementary students. He said the activities taught are helpful to keep youths interested in the coursework.
"It gives them more empathy, it helps them understand that wildlife is something to be valued," he said.
Sturges bases many of the programs out of two books educators receive for free after taking the course, which includes activities for students of all ages.
"We have the students line up, and a fourth of them pretend they are deer. The other three-fourths of the students represent food, water and habitat for the deer. Then we keep track of how the deer population changes over 10 years, or 10 rounds of the game," she said.
Sturges said the activity could be adapted to different age groups by including mathematical components of mapping the population changes and comparing them to the 10-year trend of deer populations in Routt County.
Leech said he gets the best results from using activities to teach students in ways that include more than just textbooks.
"Kids learn better if they can get their hands on it," Leech said. "The more hands-on they get, the more it helps them relate longterm. I've had kids come up to me years later and refer to things that happened outside the classroom."
Danielle Donson, district wildlife manager with Colorado Division of Wildlife, also will instruct the teachers on the basics of native wildlife during the upcoming course. Donson has worked with Sturges on several programs and said the benefits of the activities are clear.
"Project WILD's a great resource for kids to learn about wildlife and the environment," she said. "It definitely makes them more interested and keeps them involved. It's sometimes hard to capture the attention, especially of younger kids, for too long."
Four teachers have registered for the course as of Wednesday, Sturges said, but she can accept up to 20 educators in the course. It will be held from 4:30 p.m. to 8:30 on Wednesday and Thursday at the U.S. Forest Service building at 925 Weiss Drive. Registration costs $10. To register, contact Sturges at 879-3521.
- To reach Zach Fridell, call 871-4208
or e-mail zfridell@steamboatpilot.com