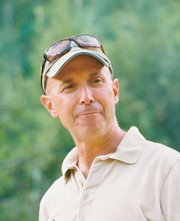 Steamboat Springs — Occupation: Theater director and instructor
Place of birth: Newark, Del.
Q. When did you move to Routt County, and what brought you here?
A. In 1972. I had just finished undergraduate work at Occidental College (Barack Obama, Joanna Gleason) and was looking for a couple of years off from education. I found it.
Q. What's the biggest risk you've taken recently?
A. Producing, directing and acting in the 2008 Picnic Theatre Festival in Spring Creek Park. Nine shows, three weekends, no rainouts, and a glorious time was had by all.
Q. Describe your morning routine.
A. I work in the performing arts; we don't do morning routines.
Q. Has a book ever changed your life? What was it and why?
A. Declan Donnellan's "The Actor and the Target" has given me yet another take on the performance process. But the "Frog and Toad" books really connected me with my sons when they were young.
Q. What's the best piece of advice you've ever been given?
A. Always remain open to the possibilities.
Q. What three things would you want people to know about you?
A. I'm single, straight and over 21. No seriously, I love the performing arts, skiing and bicycling, not always in that order.
Q. What did you want to be when you grew up?
A. A forest ranger.
Q. If you could invite any four people to dinner, who would they be, and what would you talk about?
A. Shakespeare, Arthur Miller, David Mamet, Martin McDonagh. I would imagine they would talk about playwriting.
Q. Do you collect anything?
A. Masks.
Q. In the Meatloaf song, "I'd do anything for love, but I won't do that," what is that?
A. Work for the government. I've done my time.
Q. What was your first job?
A. Wrapping Christmas gifts in my uncle's store. I got fired for putting the wrong stuff in the wrong colored paper.
Q. Who is your favorite superhero? Why?
A. Silver Surfer. I've always wanted to surf well.