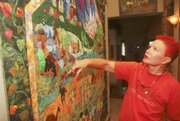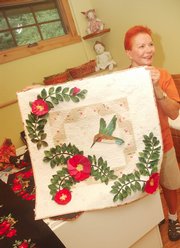 If you go
What: Mayor's Brownie Contest and Commissioners' Cookie Contest, at the Routt County Fair
When: 10 a.m. Sunday, Aug. 17
Where: Routt County Fairgrounds Exhibit Hall, 635 Routt County Road 65
Cost: Free to enter, free to attend
Call: 276-3068
For more
For a full listing of fair events, or to view the 2008 Routt County Fair event booklet, go to www.routtcountyfa...
Steamboat Springs — Asked whether she plans to wait until the last minute to finalize her entries in the 2008 Routt County Fair, longtime contestant Jackie Grimaldi has the same answer as most: "Oh, of course. Everybody is."
How many hand-sewn quilts, jackets, shirts and baskets she'll bring to the contestant's table later this week "depends on how fast I get them done," Grimaldi said while taking a break from sewing Thursday morning.
Although she took about four decades off from living in Routt County, Grimaldi recalls entering livestock in the county fair in the 1950s. Since she retired here in 2001, Grimaldi has submitted as many items as she can handle every year, as a way to support an event she has watched shrink in time, along with the presence of agriculture in Routt County.
"My mother probably has more entries in the Routt County Fair than any woman in Routt County. She had thousands and thousands of prizes," Grimaldi said of keeping up the tradition she learned as a child, when her first contest entries were a 4-H apron and a steer. An annual award dedicated to Grimaldi's mother, Helen Sherrod, goes to the fair contestant with the most entries.
Nancy Mucklow, who has brought some kind of baked canned good to the fair every year since 1990, hopes to one day win that award.
"At some point in my life, I'm going to shoot for that, but it's not going to happen this year," Mucklow said, in the middle of a stream of statements encouraging Routt County residents to bring something to the fair, even if it's not their specialty.
"Jump out of your safety zone and enter your stuff, even if it's not your best batch of chocolate chip cookies," Mucklow said. This year, she's considering entering some of the canned tomatoes and salsa she packed in the fall. For the baking contests, Mucklow admits there are ulterior motives behind her idea to submit a pound cake.
"I'm really hoping to pick up some pointers," she said, explaining that while pound cake is not her forte, the baked-goods judges typically offer cooking tips with their assessments.
Charlene Barnes - a Hayden resident who will check in all the baked goods entries at this year's fair and has brought breads, rolls, cakes or cookies to the event for "a good 20 years" - said she plans to spend the early part of this week baking, though her speculations about what exactly she'll concoct were similar to Grimaldi's: "I just really don't know just yet."
After years of taking home grand champion ribbons for her yellow sponge cake or her spaghetti bread, Barnes said it's difficult to keep track of all the jams, fruits and breads she's brought to the Routt County Fairgrounds' Exhibit Hall.
"You lose track. I've taken apples off of the trees, and it's just, you know, a lot of different things. You need a lot of entries to make a good fair, and I hope people bring a lot of things this year," Barnes said.
Grimaldi hopes to ensure a repeat of the 50 or so quilting entries she saw last year by offering to take creations by members of the Delectable Mountain Quilters with her to Hayden. While her 1950s fair entries were more geared toward livestock, Grimaldi now indulges the passion for sewing that her mother had, and she has decorated her house with intricate wall hangings, comfy rag quilts and seat cushions made of neckties.
"I never really got into it until my kids were small," Grimaldi said of sewing and quilting. "As a kid I was never really into it; I always wanted to be out with my horses or my steer or something. But my mother was a fabulous seamstress."
Entries for the quilting and baked goods exhibitions - as well as all other contests at this year's fair - are open to all Routt County residents. For the Sunday, Aug. 17 Mayor's Brownie Contest and Commissioners' Cookie Basket Contest, contestants are asked to bring their baked goods to the Exhibit Hall from 9:30 to 9:45 a.m.
For live coverage of the 2008 Routt County Fair through the week, read the Steamboat Today.