Photo Gallery
The Last Stand: Part 3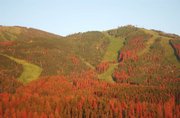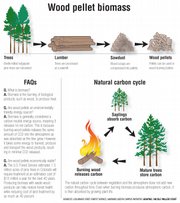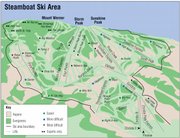 Beetle legislation
2008 state bills soften
beetle's blow to pocketbook
- H.B. 1110
For income tax years 2009 to 2014, establishes a state income tax deduction for 50 percent of a landowner's direct costs in performing wildfire mitigation measures on his or her property.
- H.B. 1269
For fiscal year 2008-09 to fiscal year 2012-13, provides a sales and use tax exemption for sales, storage and use of wood products such as lumber, furniture and wood chips that use wood from salvaged trees killed by or infested with mountain pine beetles.
- H.B. 1318
Creates the Beetle Mitigation Fund to be administered by the Colorado State Forest Service and to mitigate beetle infestation on state-owned land.
- S.B. 71
Extends the Forest Restoration Pilot Program, which solicits proposals for experimental forest restoration projects that protect water supplies.
- S.B. 221
Authorizes the Colorado Water Resources and Power Development Authority to issue up to $50 million in bonds for the purposes of funding watershed protection and forest health projects.
Source: Northwest Colorado Forest Health Guide, 2008
Steamboat Springs — In the backwoods of the Roosevelt National Forest in northern Larimer County, woods boss Jerry Heggie has barely introduced himself before he starts hauling the U.S. Forest Service over the coals.
"It's a challenge to do any logging anywhere, especially with the Forest Service," said Heggie, of Laramie, Wyo.-based Heggie Logging. "Nine out of 10 forests don't even have a timber program."
Heggie's frustrations are deep-rooted, but the past few years have been especially maddening for the third-generation logger. In response to what Heggie considers a bungled response to the mountain pine beetle epidemic, what may once have been irritation is now full-blown contempt.
In January, the U.S. Forest Service announced that bark beetles' total infestation reached more than 1.5 million acres in Colorado, nearly all of the state's lodgepole forests.
"It's all over," Heggie said. "It really is. It's horrible. And the Forest Service isn't doing anything about it."
His teeth are stained by Copenhagen chewing tobacco. In a white hard hat, brown boots, jeans and a filthy "Loggers Lagers" T-shirt, Heggie trudges uphill through chest-high slash piles. He throws out his criticisms recklessly, with no fear of retaliation in the form of losing any work in the national forest.
"We'd have to do something illegal or timber theft," Heggie said. "Or threaten them, I guess. It's come close to that once or twice. You'd like to threaten them, but you don't."
At the top of the hill, Heggie's 20-year-old nephew, Beau, is in the cab of a harvester with controls that look every bit as complicated as those of a fighter jet. In a dance involving his feet and hands, Beau Heggie effortlessly controls the long-armed machine, dropping lodgepole pines, stripping them of their branches and setting them aside.
Heggie notes the size of the trees being dropped. Although the mountain pine beetle prefers large trees, Heggie is allowed to take trees only about 6 inches in diameter that could, maybe, survive the epidemic. Meanwhile, he is forced to leave behind the larger trees he would prefer and that are surely doomed.
Heggie employee Frank "Red" Peters motions toward a tree with a bore hole oozing sap, a tell-tale sign it has been hit by the mountain pine beetle. A band of orange spray paint rings the tree, telling the loggers not to touch it.
"I tell you what, we've wasted so much timber around here it ain't even funny," Peters said. "These are the ones that should have been taken. Really, what good did we do?"
Heggie can at least take solace in the fact that he is working. The future holds less certainty. Where there were once five major Colorado and Wyoming sawmills within 100 miles of one another, there is now only one - and the mountain pine beetle threatens even that. Asked what the hardest part of the business is, Heggie says it's "keeping the wood out in front of them."
"Right now, it's looking pretty bleak for the next five years," Heggie said. "We like to look into the future and know what we're all going to be doing. Right now, it's hard to say what we're going to be doing."
Out of their hands
Logging operations fell off dramatically in the 1990s, leading to the mill closures Heggie referenced, but Andy Cadenhead says this was not the Forest Service's doing.
"At that time, the public intolerance for the amount of logging heightened," said Cadenhead, a Steamboat Springs-based supervisory forester with the U.S. Forest Service. "That really knocked us back in the form of appeals and litigation."
The Forest Service is now desperately trying to revamp the industry in an effort to clear forests of the risks that accompany millions of acres of dead and dying trees.
Cadenhead said fuel costs are a major detriment because the large mills closest to Steamboat are in Laramie and Montrose. Besides, there is a finite amount of time before the dead trees begin to crack and lose their lumber value.
"I don't know who would ever gamble on such a thing right now," Heggie said.
Cadenhead agrees.
"Our timber sale program will probably drop back down," Cadenhead said. "We expect that we'll still have timber to sell, but certainly not as much as we're seeing today."
Even the industry that does exist isn't necessarily interested in what the Forest Service is offering. The mill Heggie works for, Big Horn Lumber in Laramie, doesn't want dead trees. When beetles attack a tree, they infect it with a fungus that causes the wood to turn partially blue. While the fungus affects only the wood's appearance and not its quality, Heggie said the perception of inferiority means Big Horn can't make a profit off it.
"Everything's in green demand," said Heggie, who must limit the amount of blue-stain he delivers to the mill. "It's not that Big Horn won't take blue-stain, but they can only survive on about 10 percent."
Local success
While operations the size of Heggie's and Big Horn struggle to make use of blue-stain lumber, Cadenhead said some smaller operations make it work.
"It's really pretty," Nick Casias, an employee of J Bonn Wood Products in Steamboat, said as he ran his hands over the marbled look of a piece of dimensional lumber. "There's a lot of it, and I don't know why more people aren't taking advantage of it."
Owner Joe Bonn said perceptions that blue-stain is inferior are false.
"There's absolutely nothing wrong with the wood itself," Bonn said. "Anything you can make out of wood, you can use this wood for. It's just getting the word out."
"I've always tried to stay in harvesting dead timber stands because it's more environmentally friendly and these trees need to come out," Bonn continued. "Now there's just way more timber than probably is usable, unfortunately. An operation this size, there's no way. I won't even put a dent in it."
The same is true at More Lumber in Milner.
"The local demand I don't think will keep up with beetle-kill," Mike Miller said. "A lot of this wood goes to New Mexico, Utah, California, South Dakota. I don't think we'll ever get them all out. No one will."
Miller and his business partner, Billy Oerding, have made a career out of following the beetle. For nine years, Miller did most of his logging in Grand County, where the mountain pine beetle epidemic took off in Colorado after annihilating forests in British Columbia and other parts of the Rocky Mountain West.
"We were out there doing some dirt work, excavation," Miller said. "People started asking us to take out trees. It just kind of ballooned."
Oerding sold his company in California and moved to Colorado to capitalize on the bark beetle epidemic after coming out to look at a beetle problem on a friend's ranch.
"I'd been doing the same thing in California," Oerding said. "It's good lumber. It's got a place. We're not out here to rape and pillage. We want to do a good job. We want to be responsible."
Oerding said the beetle epidemic presents a decade-long window of opportunity for More Lumber. But while they are surrounded by a ready-made supply for their mill, the surplus has put downward pressure on the price of lumber. The industry also hasn't been immune to the effects of skyrocketing fuel prices and a plummeting housing market nationwide.
The market price of 110,000 board feet of lumber on the Chicago Mercantile Exchange has fallen from about $290 when Miller and Oerding started their joint venture together in November 2007 to about $250 today.
Inescapable
"It gets so cold up here that the lawyers have their hands in their own pockets," Colin Rolston jokes to visitors July 1, Canada Day.
In observance, Rolston displayed the Canadian flag at his recently sold bed and breakfast in Williams Lake, British Columbia, but had little other plans for the holiday. From his hillside balcony, Rolston points across the lake at patches of clear-cut forest. People were so upset with the man who logged the treasured mountainside above the lake, Rolston said, that no mill dared purchase his lumber.
Rolston doesn't think there should be the same hesitancy to use any of the province's tens of millions of acres decimated by the mountain pine beetle.
"I think the real sad part is the bureaucracy in putting the wood to use," Rolston said. "It's going to die anyway, right? Let's do something with it. They're going to die anyway. Use your head."
But it's not that simple.
Jim Snetsinger, British Columbia's chief forester, said the province is trying desperately to harvest as much beetle-killed timber as possible while it still has value. Snetsinger is responsible for setting the province's annual allowable cut, and he has been increasing it.
"What actually gets harvested is driven by the market, not by the chief forester," Snetsinger said.
At the Prince George Railway and Forestry Museum in British Columbia, the donations box is fittingly made out of blue-stain wood.
"An epidemic like this has never happened in the last 100 years, which is the history of industry in Prince George," said museum curator James Tirrul-Jones, who said the downturn of the U.S. housing market is hurting Canada's industry, as well. "It's occurred at a time when other economic factors just make it worse."
Boon
The situation is quite the opposite for the woody biomass industry. While lumber mills have been on the decline, within 50 miles of each other, pellet mills in Kremmling and Walden have sprouted on political encouragement and the promise of a boundless supply of dead and otherwise unwanted trees.
"As long as I've been talking about this (mountain pine beetle epidemic), I've thought there is a bigger role for woody biomass to play," Gov. Bill Ritter said in May at Soroco High School in Oak Creek, where students will be the first in Colorado warmed by biomass boilers fueled with wood pellets. "We know there are some cost impediments, but this is certainly something we need to think about in scale."
The cracking that eventually makes dead trees worthless for a sawmill is not an issue for the two pellet mills.
"We let the loggers do what they do, and they in turn have a place for all the beetle-kill," said Bob Stahl, plant manager at the Rocky Mountain Pellet Co. in Walden. "We're probably the biggest solution to a catastrophic problem. Sawmills only have a couple years. I can use them eight to 10 years."
At the Confluence Energy pellet mill in Kremmling, owner Mark Mathis is counting on a timber industry revival that will make his mill viable for several decades.
"It needs to be commercially thinned," said Mathis, who thinks the U.S. Forest Service will recognize that in the wake of the mountain pine beetle epidemic.
Stahl and Mathis also are relying on the maturation of the U.S. market for wood pellets, which have been popular in Europe for many years. While showing off his pellet mill and describing some of its components as "a giant coffee roaster" and "the world's most expensive pasta press," Stahl said it's not a long shot, especially with current fuel prices.
"Bottom line, fossil fuels are going to go through the roof," Stahl said. "A lot of people, including your smaller municipalities, are looking at alternatives. : Europe is years ahead of us. We're in a catch-up mode now."
Less worried
While the mountain pine beetle has had top-to-bottom impacts on British Columbia's forestry industry, few expect the same impacts on what has replaced it as the province's No. 1 industry: tourism.
Tourists packed the visitors center in Kamloops, British Columbia, on the eve of Canada Day, and cyclists filled Tranquille-Criss Creek Road the next morning.
"Tourism is growing because (British Columbia) is sort of the last frontier," Rolston said.
Sandy Evans Hall, executive vice president of the Steamboat Springs Chamber Resort Association, feels similarly about Northwest Colorado.
"So far, I haven't seen any impact from the trees," Evans Hall said. "I think the impact we're seeing now is more economically driven. : People are still coming to the Rockies and looking for that Colorado vacation. In terms of people coming to visit and staying in our lodging, I don't see that changing."
On the slopes of Mount Werner earlier this summer, Doug Allen admits the mountain pine beetle has, and will continue to have, a visual impact on the ski area.
"Anytime you have a devastating event like this in a forest that you love, it's hard, no doubt," said Allen, vice president of mountain operations for the Steamboat Ski and Resort Corp. "Some of these grand old pines, they're beautiful trees. The aesthetics for several years will definitely be affected. : And whatever we do, it will be expensive. There's no way you go through an event like this without it being very expensive."
Beyond this, you're hard pressed to get Allen to discuss the mountain pine beetle epidemic in anything but optimistic terms. He notes that most of the resort's lodgepole pines are on the lower mountain, where their deaths will create opportunities for new ski runs.
"Steamboat has always suffered from a lack of readily accessible beginner terrain," Allen said while walking through the ski area's Rough Rider Basin. "Our next real opportunity for developing novice terrain is in this area. (The epidemic) really gives us some opportunity to create some beginner terrain near the base of the mountain."
Allen said Ski Corp. will remove only hazardous trees this summer while it hammers out a more comprehensive plan for mitigating the beetle kill.
"This is our first priority: the safety of the skier," said Allen, pointing at one dead tree hung up in another on the side of a ski run. "We haven't gotten into wholesale logging just because we're still trying to work with the Forest Service."
Allen and Evans Hall make comments that suggest the mountain pine beetle might give Steamboat a competitive advantage when it comes to tourism because of the diversity of its forests when compared to nearby resort destinations such as Grand and Summit counties.
"We're very fortunate here in that this is a very diverse forest," Allen said. "We really only have pockets of intense lodgepole. As you look up the hill, you can see red trees, but they're in mixed stands. When the needles fall off the trees, it will be hard to tell a difference."
Property values
Bob Bomeisl's hidden house is about to be exposed.
"They're pretty special to me, especially this one," said Bomeisl, referring to the doomed lodgepole pines in his Steamboat Springs front yard and the one that shields the front of his house in particular. "It's like the entry to my house. You can't replace a tree like that.
"I noticed the bore holes, and I knew it was sure death. : I guess when it doesn't affect you, you don't think about it too much. But when you're affected by it, you're just shocked at its speed."
As a real estate broker, Bomeisl understands the effect the loss could have on his and his neighbors' property values, but he thinks vacant lots will be affected the most.
"There is an impact," Bomeisl said. "I can't say that impact has been affecting values as of this time, but it could in the future."
Realtors in Grand County say current economic conditions make it nearly impossible to single out the mountain pine beetle's impact.
"If the economy was still doing what it was doing two years ago, would there be less activity because of mountain pine beetle?" Winter Park Realtor Cliff Anderson asked himself. "My answer is 'yes.'"
Off the clapboard sidewalks of Grand Lake, Elwin Crabtree, a 40-year veteran of the Grand County real-estate market, is less certain. He said the beetle initially had a negative impact on the market, but that it rebounded shortly thereafter. Crabtree said Routt County should expect the same.
"I think you'll expect a negative impact on the real estate market for a couple of years, but then it will level off," Crabtree said. "We're not seeing distress signals here."
Crabtree said most impacts on property values are site-specific. If the loss of trees reveals your neighbor's junk, your property value may go down. But for Crabtree and others, the opposite was true.
"We were upset at first," Crabtree said. "Now, we have a 180-degree view of the Continental Divide."