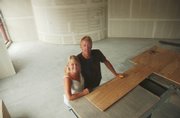 Steamboat Springs — When customers step into The Victoria, they'll lay eyes on Steamboat Springs' new old-style barber shop.
That makes Barb and Kenny Porteous happy.
"We're the very first thing they're going to see in the newest and nicest building in town," Kenny Porteous said last week as he and Barb debated about where their new barber shop pole should go.
The couple's 10th Street Barber Shop is slated to open in the fall at 10th Street and Lincoln Avenue, across from Bob's Conoco. The Porteouses are aiming for late September, but they said it could be October before they're cutting hair and shaving whiskers.
The Porteouses' plan has been brewing for several years. Barb Porteous worked for nearly two decades at the Shack, and she heard a chorus of complaints when Ken and Jane Shovick closed their Family Barber Shop in 2006.
"I've never heard so many men comment on one issue in my life," Barb Porteous said. The men didn't want to get their hair cut at a salon, she said. They wanted an inexpensive haircut at a place that didn't require an appointment.
That's where the Porteouses hope they come in.
The shop will have three old-style barber chairs, as well as a saddle-shaped chair for children. The couple said they planned to offer the cheapest haircuts in town but hadn't set prices.
"We're going to do very rustic and old," Barb Porteous said. "I think of it as a Western saloon. : There might be a rifle on the wall and a deer head and stuff. I hope that will create a nice, comfortable feel. If a guy has to wait, I hope he won't mind hanging out and visiting with old locals."
Barb Porteous will wield the scissors herself, at least at the beginning. She learned to cut hair last year at a school in Fargo, N.D.
"It was great," she said. "I'm very trained on giving shaves, scalp massages and face massages. It's kind of a pamper spot for the guys."
Kenny Porteous also plans to get barber training, but it's tough to schedule around his property-management job and the couple's four children, who are 6, 9, 14 and 16. The shop will include a shoeshine chair, possibly manned by one of the younger Porteouses.
Putting together their first business venture has been a challenge, Barb Porteous said. SCORE, which counsels small-business owners at Colorado Mountain College's Alpine Campus, helped the couple get organized.
"You felt like you thought about every single thing you ever could think of" with SCORE, Barb Porteous said. Volunteers and staff members helped them put together financial information and do research. Banks were much more willing to talk about loans when presented with those spreadsheets, she said.
The couple bought the 566-square-foot spot in The Victoria, financing it largely on their own. Barb Porteous said they didn't want to lease because of increasing downtown rents.
The two said they were excited about the location. It's outside the heart of downtown, which Barb Porteous said would mean more parking spaces for customers. They plan to initially be open Monday through Saturday, and Barb Porteous is looking for barbers. She'd like to start with at least three.
The Porteouses think their barber shop, the only true one in town, will be a success.
"This is a life change for us, but we're going to put a lot of pride into it," Kenny Porteous said.
- To reach Blythe Terrell, call 871-4234
or e-mail bterrell@steamboatpilot.com